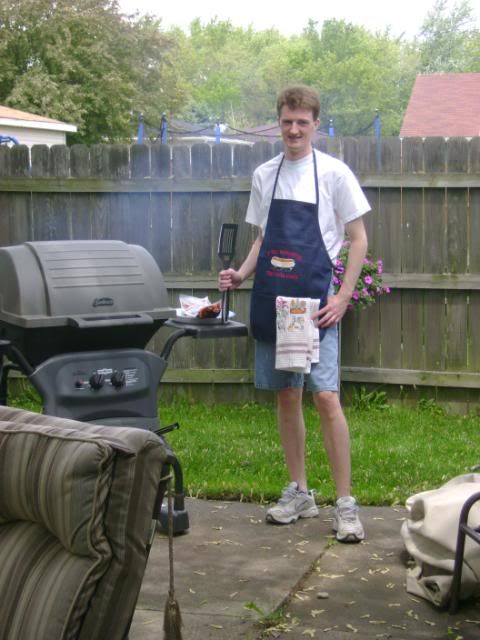 We celebrated our Memorial Day the RIGHT way -a family barbecue!
We meant to go to Julie's uncle's house but Matt was still having issues from his flu bug last night so we cancelled those plans. I know some of you have been asking how he's doing and he appears to be back at full strength today. At the very least he is smiling and playing like the old Matthew.
So we stayed home and bought a ton of food from the grocery store and did our own barbecue just the four of us. And in classic family style, we ate like piggies (and we ate piggies).
First on the menu was a good old fashioned hamburger with sweet onions - very tasty. A slice of American cheese some ketchup and yum, yum, yum.
Next up was a Johnsonville bratwurst with a little brown mustard and pickle relish. But Wait! There's MORE!
Last but not least for the coo duh gracie, RIBS! I found pre-cooked ribs at the grocery store, all pre marinated in barbecue sauce. All you do is peel it open and throw it on the grill. 10 minutes later and ... PURE MAGIC... the ribs were soft, sweet and yummy!
Happy Memorial Day all! We may not eat again until Labor Day! (Urp!)
PS : Thanks to Aunt Judy for the apron - it says "If you grill it, they will come!"