Thanks to my company hitting its United Way goals last year, we had an extra day off today to lead off the Memorial Day weekend. It was very much appreciated and needed.
However.
I had planned to buy a basketball hoop for this weekend. Julie graciously offered to assemble it on Thursday evening for me (I inherited absolutely NONE of my grandfather's engineering skills or will). We stayed up from 9 to 12 putting it together. It was quite the undertaking, but it turned out pretty well.
The only problem is that we were both dog tired when we finished. When we came in the house, we made a rather unpleasant discovery. Matthew was really, REALLY sick. He had caught some kind of bug and couldn't even keep water down, much less milk or any food.
We fought through the night with him, cleaning him up after each episode, trying to keep the laundry ahead of his bouts with illness. It was a difficult undertaking. This morning, it became obvious he wasn't getting better, so Julie took him to the doctor and they gave him a steroid shot which stopped the nausea "results". It was an extremely challenging doctor visit but he's been sleeping ever since - about 7 hours now.
After a three hour nap and a bout with a vicious "lack of sleep" headache, I finally got outside to play some ball. Kelley came out with me and we did some drills, shooting baskets and practicing bounce passes. I'm expecting a big improvement when she starts basketball again this year at the YMCA.
Kelley's pre-shot preparation :
Kelley fires up another one.
She shoots, she scores!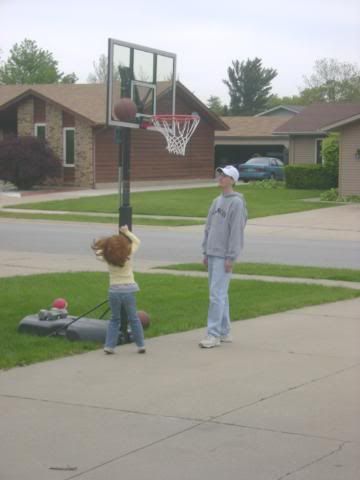 Happy Memorial Day Everybody!