Because of our pregnancy situation, we had to move up our normal boys Kelleys trip from July to June this year. Since we weren't celebrating a birthday with cake this year we decided to celebrate the place we were headed to instead!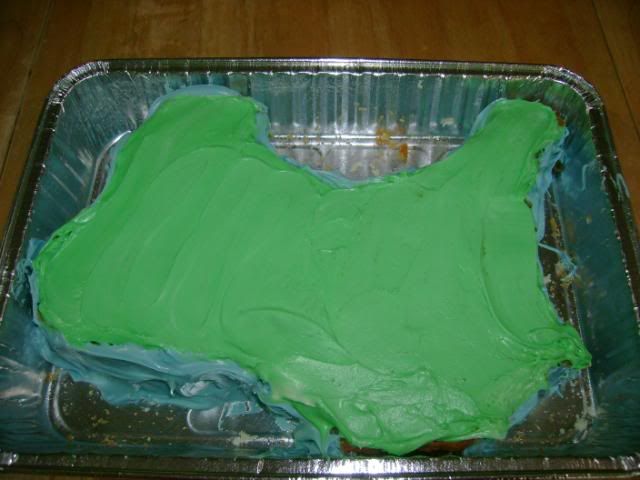 To paraphrase the Bible, About 5 people ate cake and all were satisfied.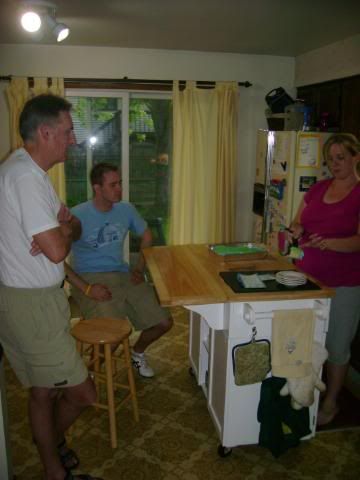 Once we made it to the Island and unpacked, we had a very important date to keep. So after a hop, skip and a jump...
We sat down to eat at the Pump!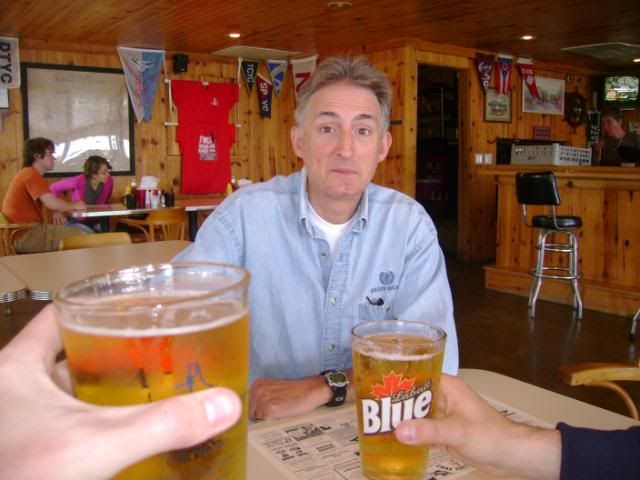 We had a very special guest this year, my little boy Matthew. To say that Matthew and Grandpa Pete were inseparable would be sort of like saying Peanut Butter and Jelly go well together in a sandwich.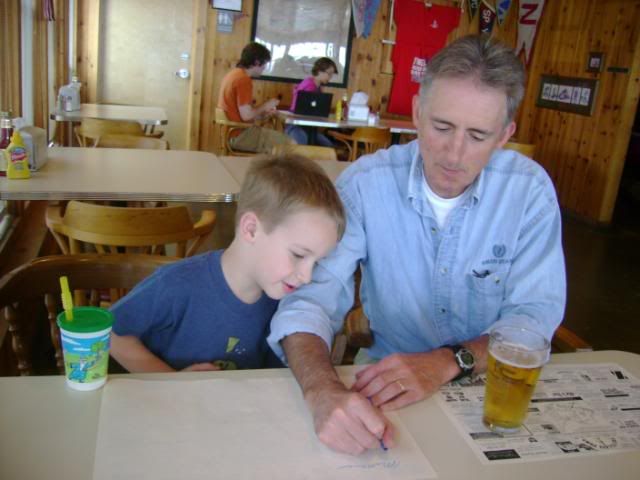 Our first pump lunch was an outstanding Walleye special with two huge Walleye filets, cole slaw and awesome Pump fries!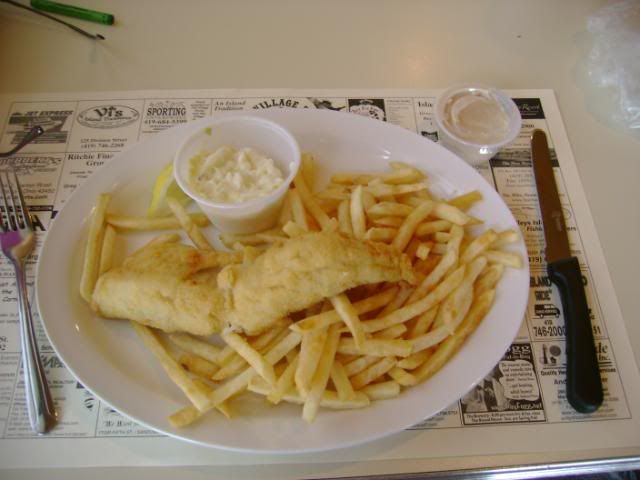 Dad was all business with his food!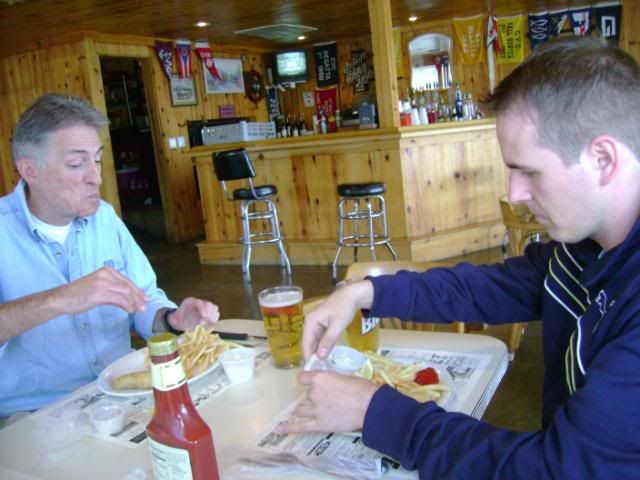 ...and his beer! Dad 3, Beer 0.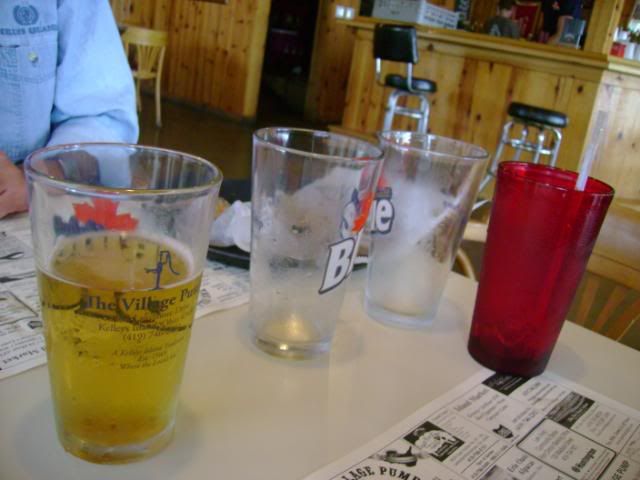 So after three beers, you need to hop, skip and jump right? Neither of them needed the beers - they were doing this ALL WEEKEND LONG.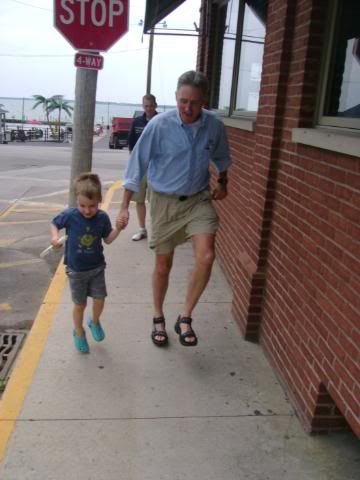 We finally had to separate Matthew from the Chex Mix because he was tearing through it like he hadn't eaten in weeks.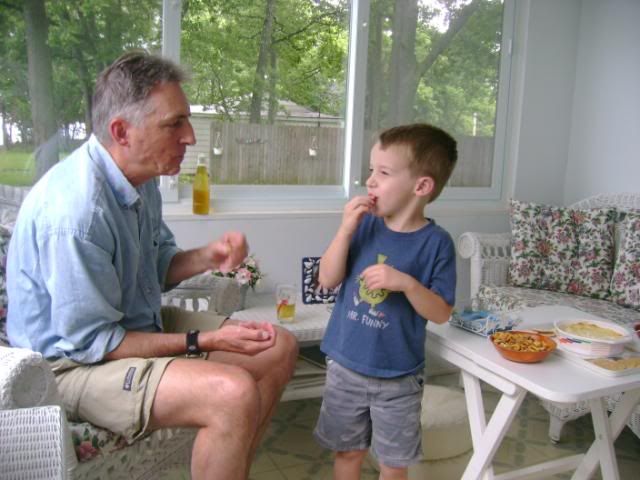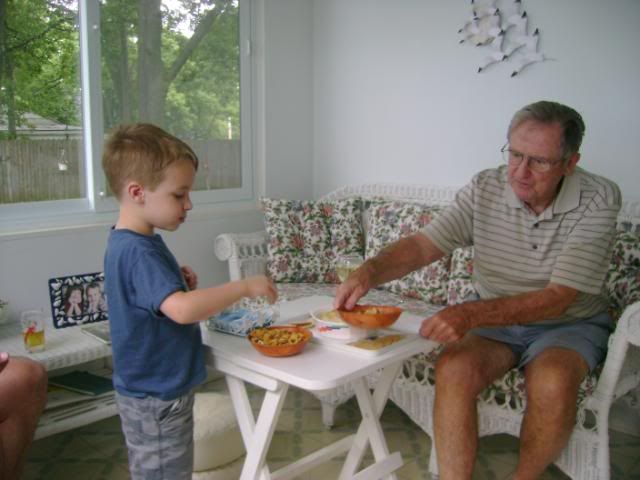 Happy Hour was filled with the usual happy merrymaking and eating of always superb appetizers.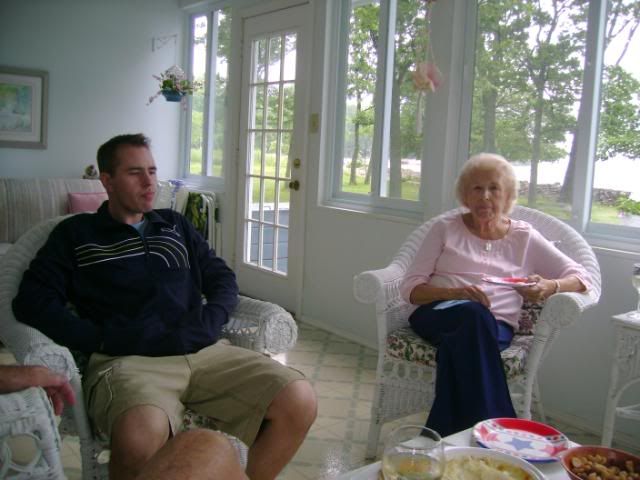 Matthew joined us for this dinner with his food of choice - hot dogs!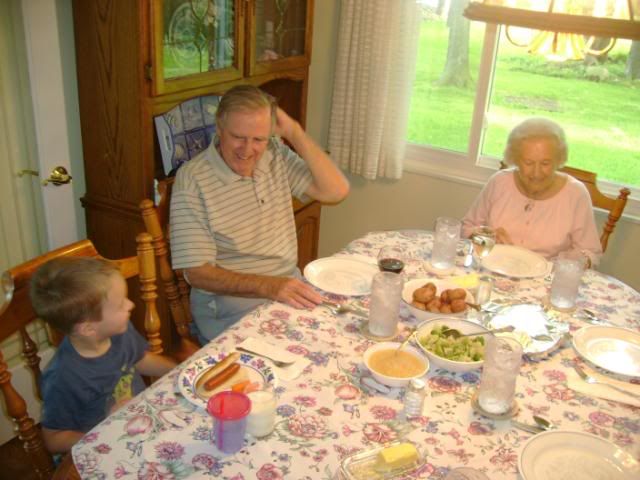 The next day, Grandpa Pete went for a paddle in his kayak and his biggest fan was waiting for him as soon as he got back.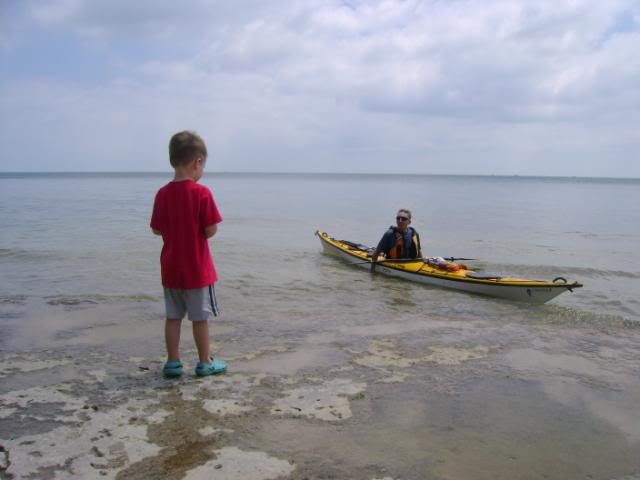 Then we went to the boardwalk. Matt got dirt in his shoes and couldn't walk comfortably so guess who was there to carry him on his back?
When we got back from the trail, Matthew spread the love to Uncle David.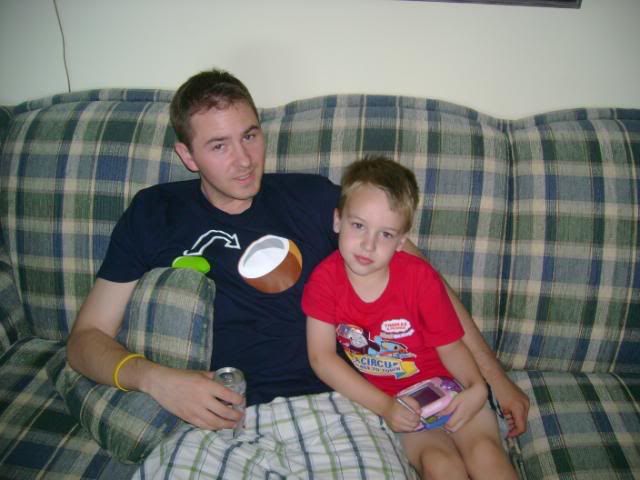 Also, we went down to the shore and found a new friend (that we kept our distance from).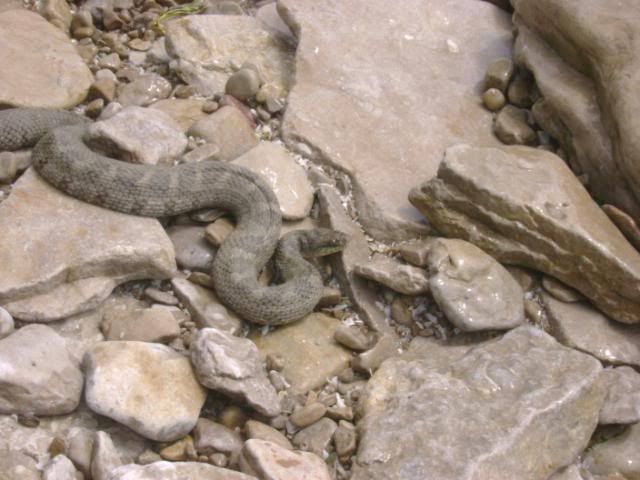 What do we do for lunch?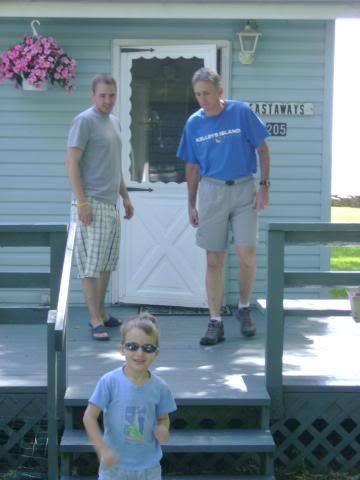 Even Matthew got in on the "Cheers" moment this time!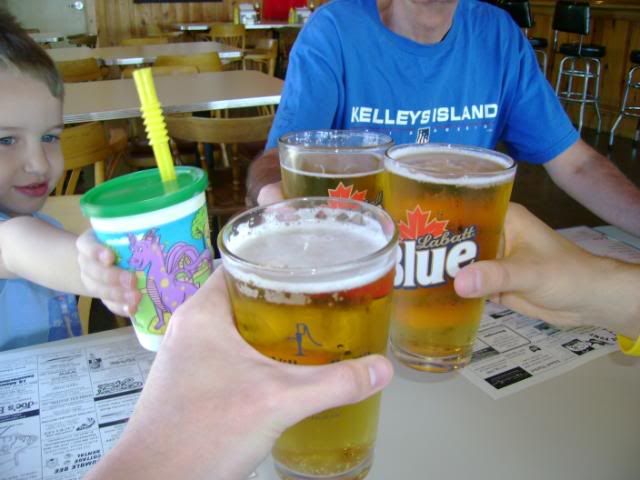 And then there was the obligatory "I love you" grandpa hug. Again, this went on ALL WEEKEND LONG. They were soul mates separated only by age.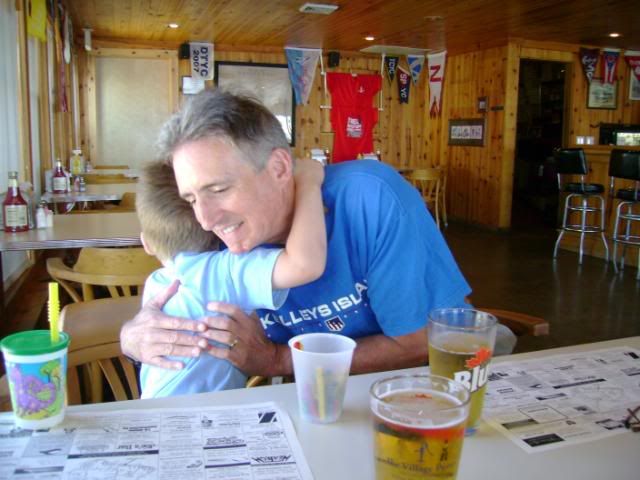 For our next trip we walked over to the North Beach where Grandpa, Dave and Matt worked on their skipping, jumping, and hopping.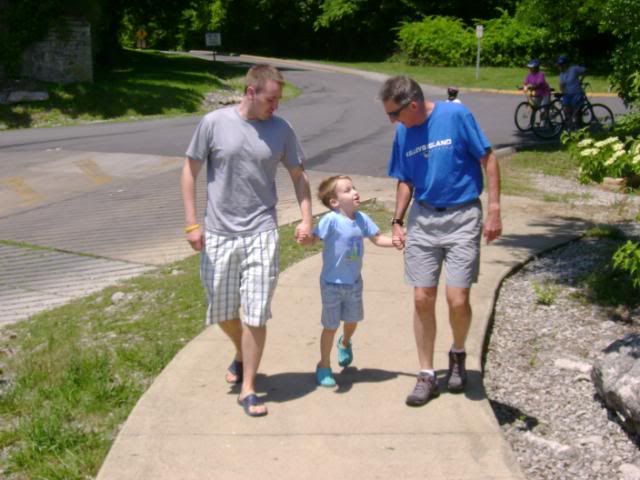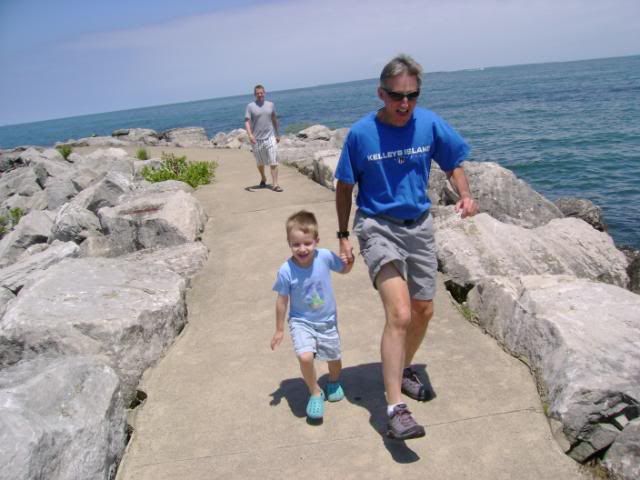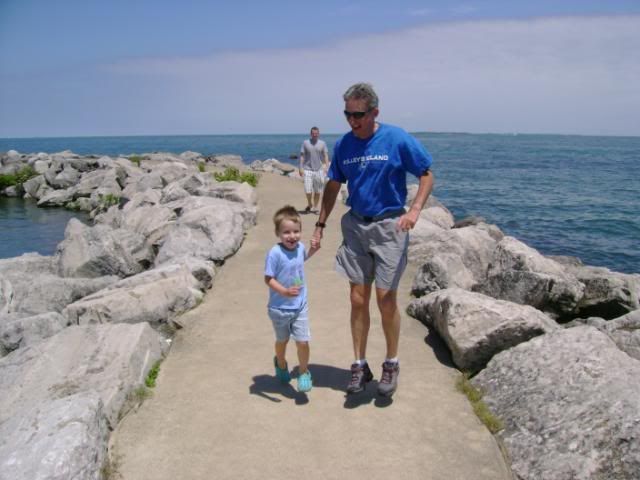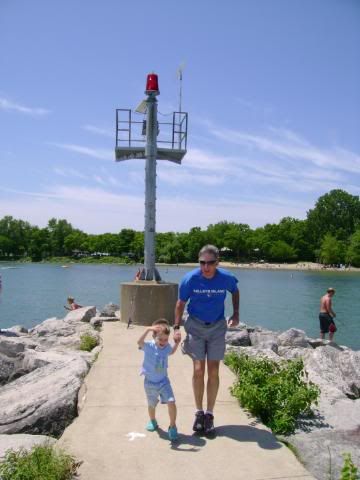 Finally at rest and Matthew being asleep, I went out to the deck and took this panorama of this absolutely stunning perfect day.

For our "formal" dinner, we took some pictures. This one has been on my mind for a long time. When I was very little, me, my dad, Grandpa Williams and his Dad, Roger, Sr, stood in exactly the same sequence (Great Grandpa, Grandson, Dad, Grandpa) for four generations of Williams boys in one shot :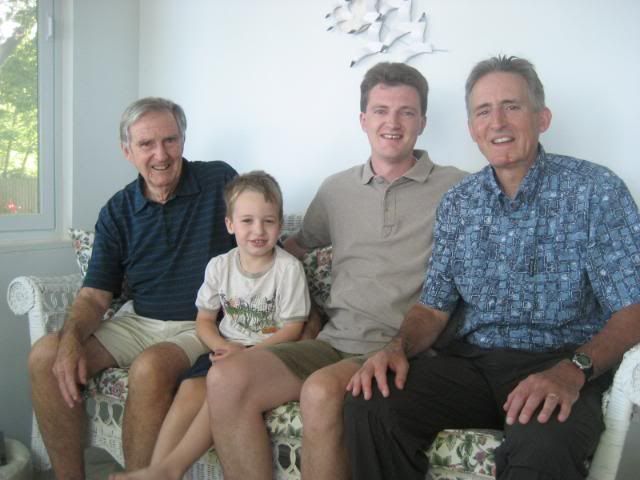 Then Grandma joined us :
And finally just the "Charlie" (middle name Charles) Boys :
For dinner we went down to the Kelleys Island Wine Company where we had excellent scallops and ribs - it was awesome.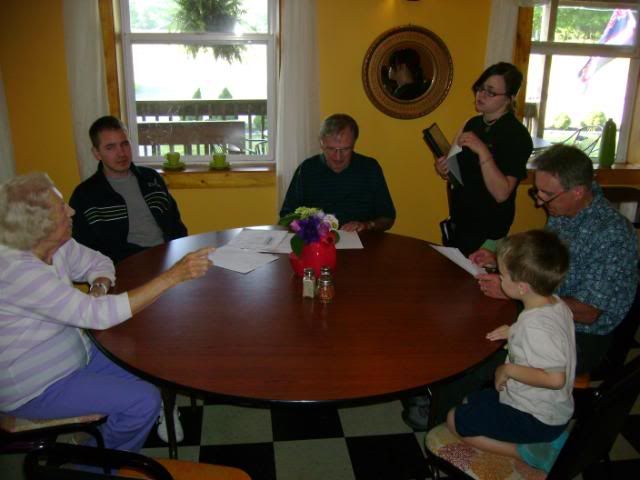 I had to take a picture of this because I miss the Neuman Boat Line so much. The restaraunt owner approached me and asked if I knew where that was from. I told him I had rode on it many times over the years. What I forgot at that moment is that I even had my hands on the wheel of that boat a couple times.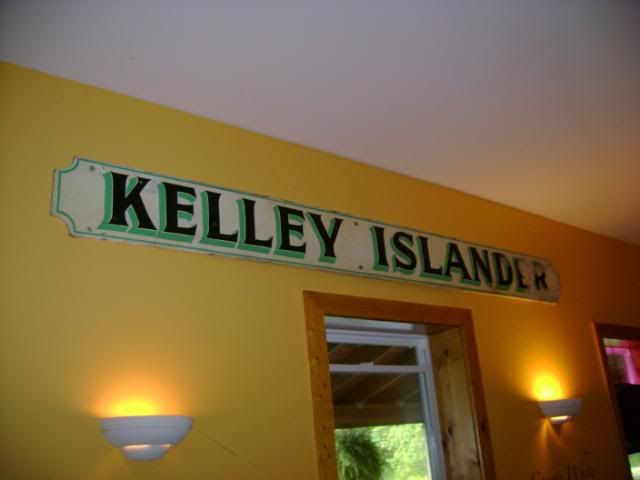 More pics with Uncle Dave!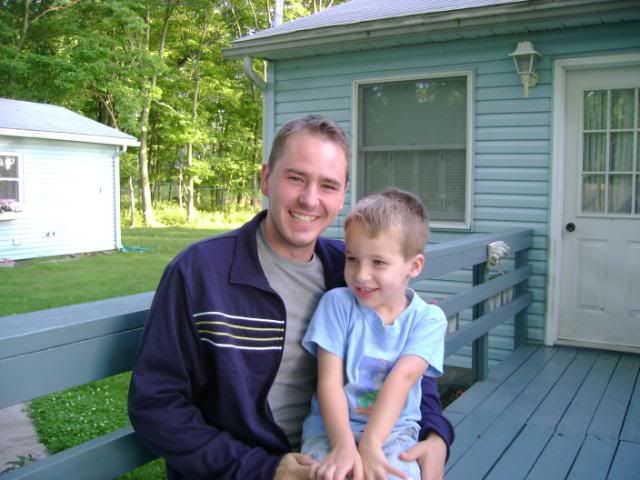 On our last day, Matt and I went for a walk, just the two of us :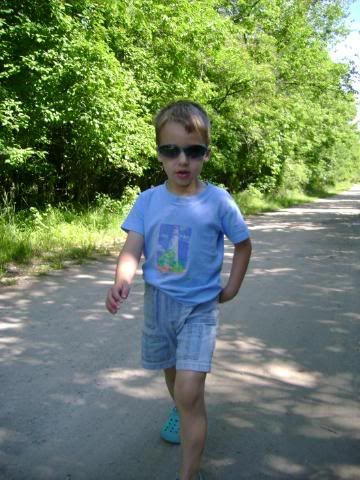 And we found a friend :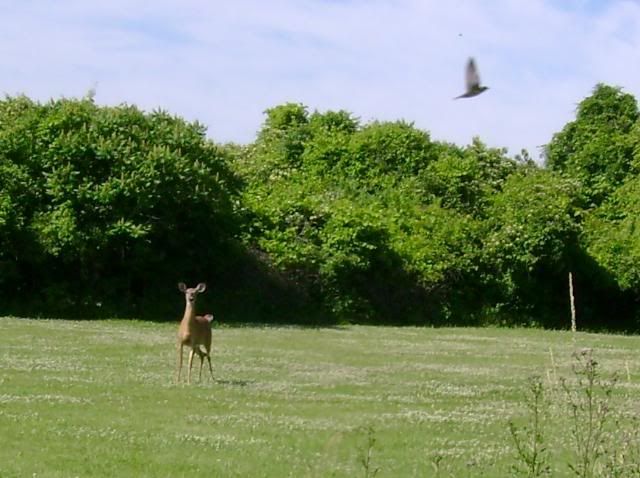 Before we left we posed for one group shot :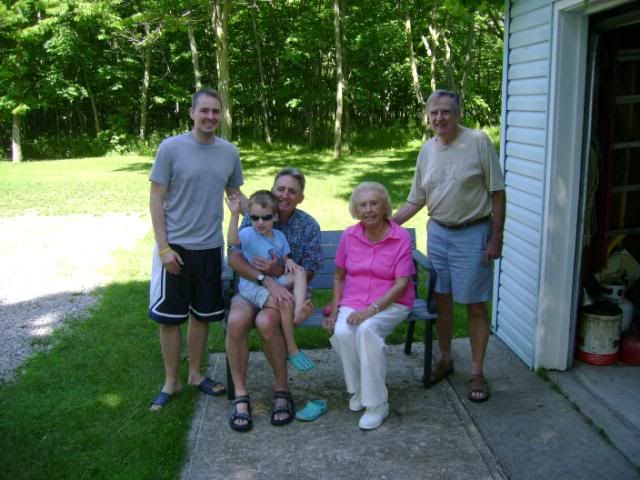 And of course one more...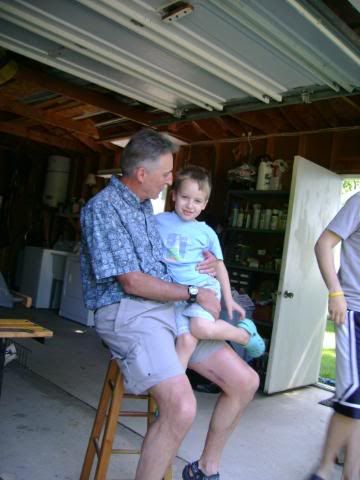 And we packed into the truck and off we went!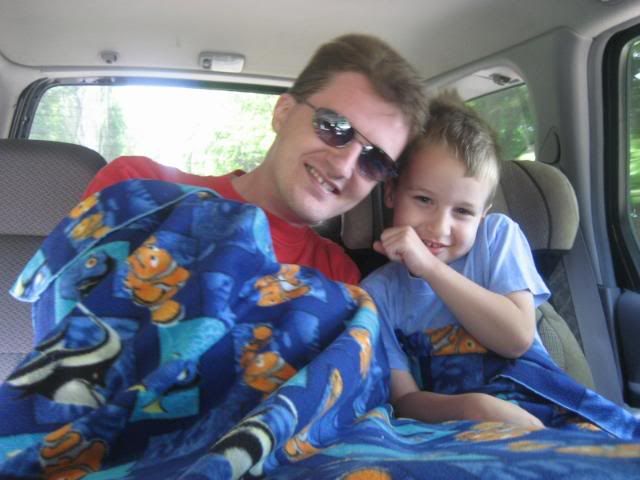 And for the fourth time in four days, Matt went down for the count :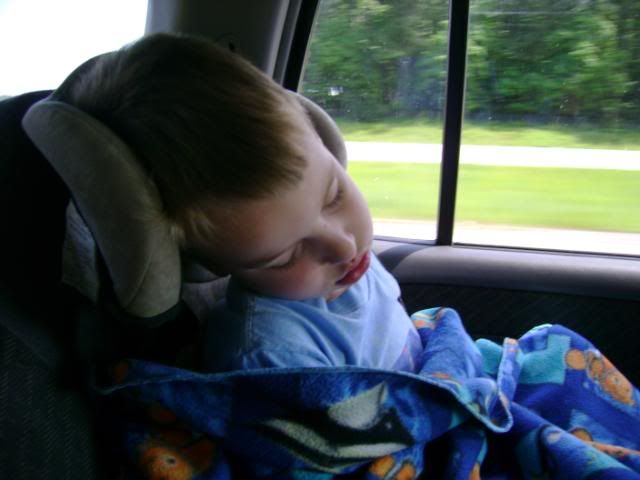 All in all, it was a spectacular weekend, definitely enhanced by our special guest!
PS : Since Julie doesn't blog, here are a couple shots from her trip the week before :