The Williams Family Weekender has been slow to update this year, and I'll explain why in the next blog. In short, though, we have spent the last NINE consecutive weekends running around like crazy people and now we are done, waiting for baby #3.
This past weekend, we celebrated our anniversary a bit early, because we felt leaving a two month old with Grandparents for an entire weekend might be a bit much.
This year's anniversary trip was downtown Chicago, something we have wanted to do for a while, but couldn't afford it. This year, Julie found some pretty amazing discounts that gave us a room on the 33rd floor of the Hyatt Regency, facing Lake Michigan through the Chicago River.
I should also mention I bought a fancy new camera about a week ago. Some of you know of my failed experience with the Kodak EasyShare Z8612 - I took it with me to Tampa to visit the Williams grandparents. It ate through 8 batteries in about two days. So, I sold it shortly thereafter and since then I've been doing a ton of research. I finally landed on a smart combination of features and cost in the Panasonic Lumix DMC-FZ28. This camera has an 18x zoom and all kinds of fun shooting modes. I'm still learning how to use it, but I think you will agree that this camera takes some pretty fantastic pictures.
Upon arriving at the hotel, I look down and the Centennial Fountain is showering the river. From The Chicago Traveler,
"A water cannon shoots a HUGE arc of water across the Chicago River for 10 minutes at the top of every hour (beginning at 10 a.m., except the hours of 3 p.m. and 4 p.m.). Boats that are traveling down the river at these times either pause and wait for the cannon to stop, or they will go right on through and get soaked by the sheet of water that cascades from the arc. "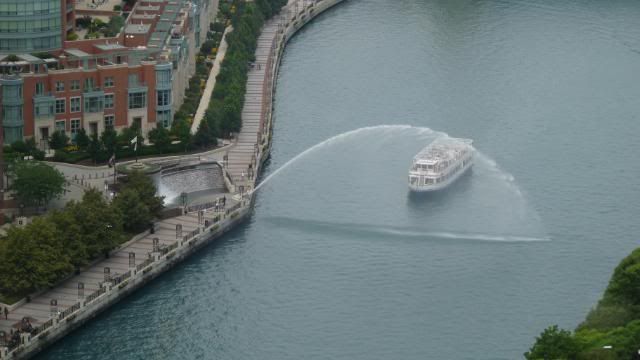 This is the view looking pretty much straight down from our room onto the plaza of the Hyatt Regency.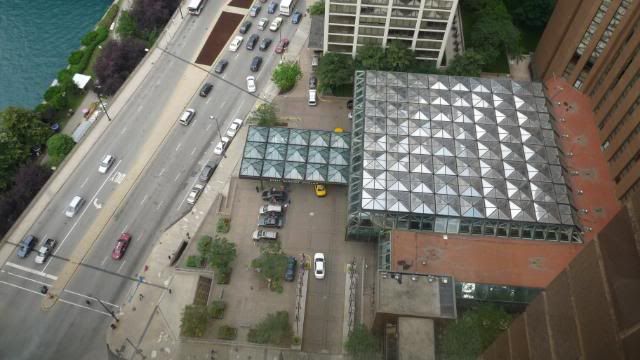 On our way to Navy Pier, I took a couple shots of the Wrigley Building clothed majestically with Old Glory.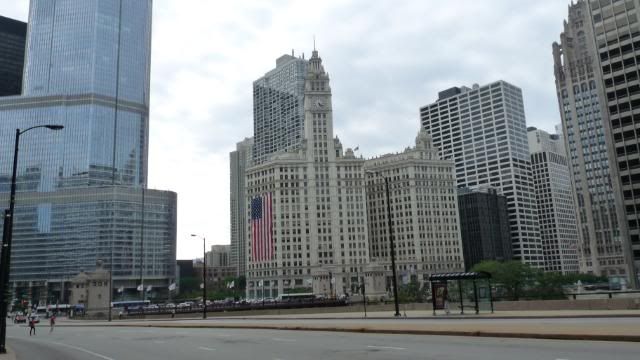 I forget which building this was in front of, but they had a sculpture of the famous American Gothic picture.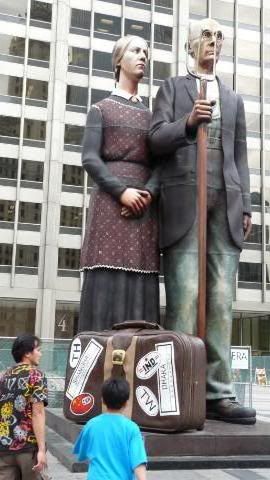 Cub fans of a certain age will remember this face :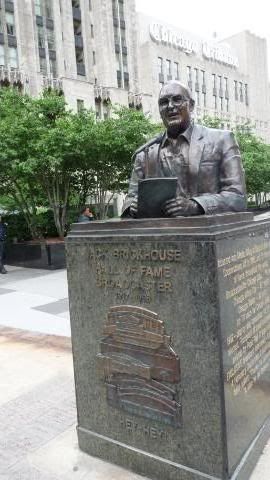 Along the wall of the Chicago Tribune Building, there were many different rocks protruding from the walls taken from various assignments by Tribune correspondents. There were stones taken from the Taj Mahal and many other famous and culturally significant places.
The one I chose to photograph had a decidedly more local flair.
An interesting stairstep fountain along our walk to Navy Pier. Chicago is an architectural artist's playground and they love to show off.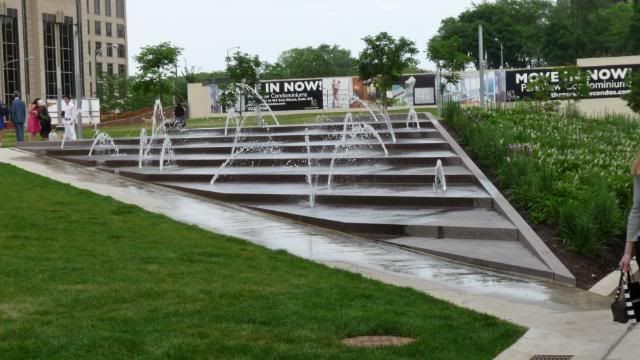 At last, we arrived at Navy Pier where we boarded our cruiseboat, the Odyssey II.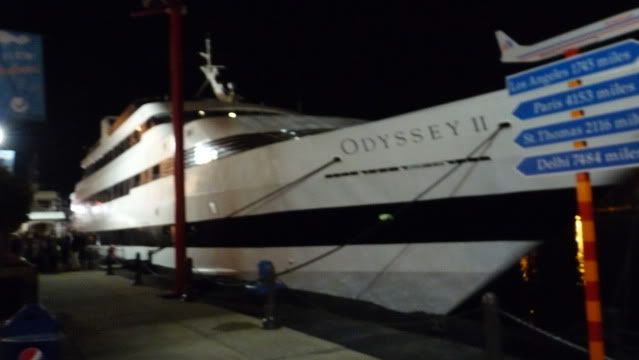 The good people at the table next to us obliged us with a picture for the file. As you can see behind my right shoulder, we had a live jazz band for pretty much the entire cruise. The food was amazing, more on that in a moment.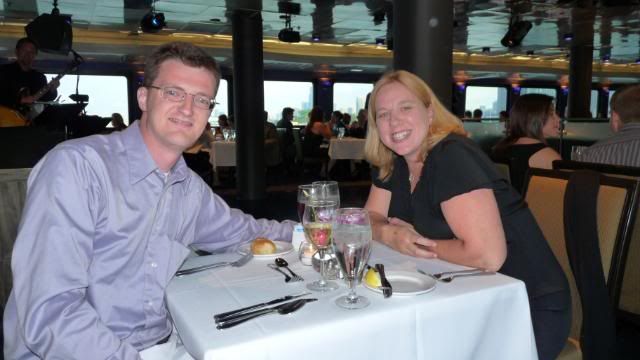 It was a cool night, so we took short trips to the observation deck to take photos. But what we saw while we were up there just took our breath away. Look at these shots.
Sun rays "raining" through the clouds above residential high rises on the North Shore.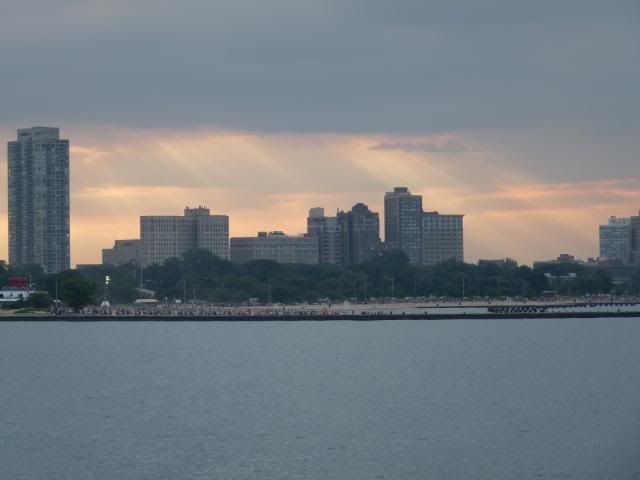 Another version of the same photo with the "Sunset" scene turned on.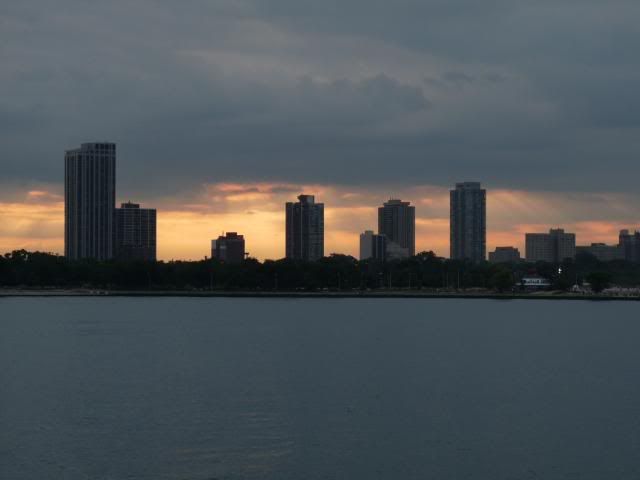 Sunset over Chicago. One of my favorite shots from the whole weekend.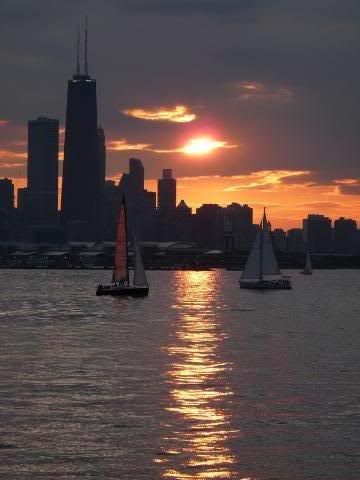 Another sunset picture.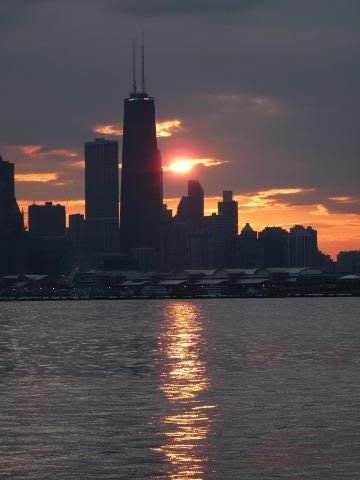 After watching the absolutely majestic sunset over Lake Michigan, we went back in for dessert. They served us a chocolate tort cake with chocolate mousse filling, strawberries underneath, and whipped cream and cookie sticks on the side. It was
amazing
. Our server was extremely accomplished. He asked if we were celebrating anything and we told him our story so he brought out the cake decorated with the word "Congratulations". Well played.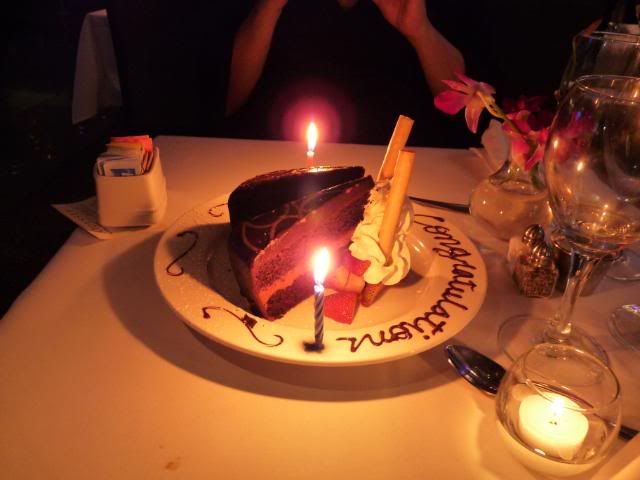 Our server, Anthony, was also gracious enough to take our picture with our sculptured dessert.
After dessert, we headed back up the observation deck to catch the last of the sunset.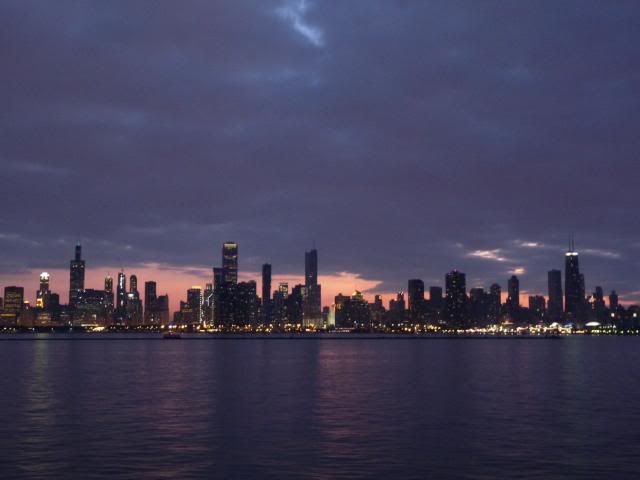 Our server, Anthony, bore an incredible resemblance to my cousin, Jonathan, so I asked him if I could take a picture as proof.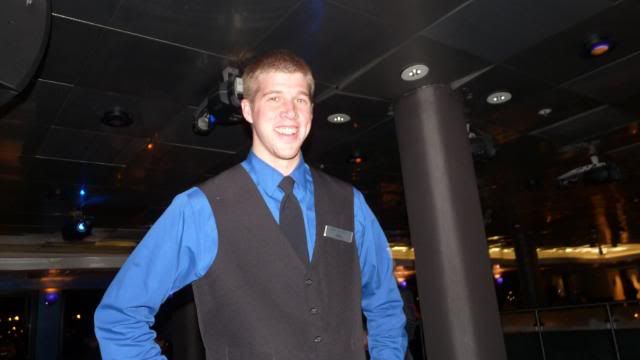 The City at Night.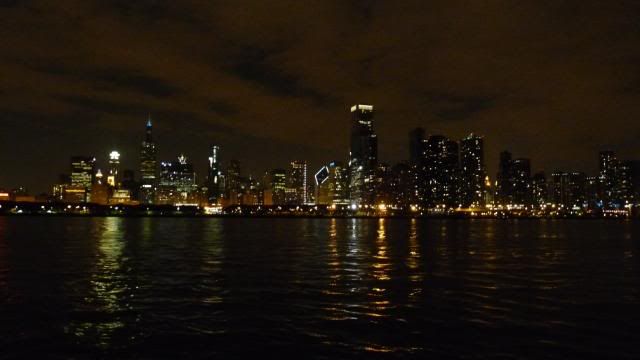 A very beautiful woman posed for a picture with city in lights as a backdrop.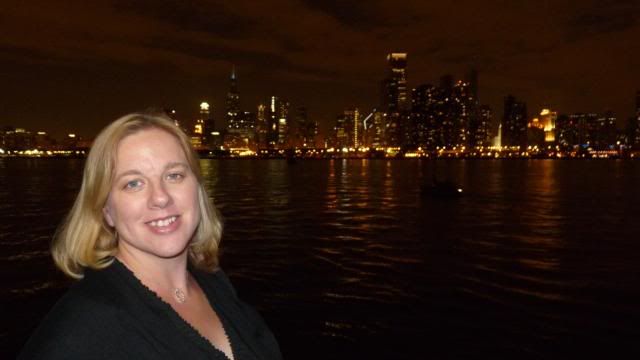 A crew member on the deck took our photo with the city as background.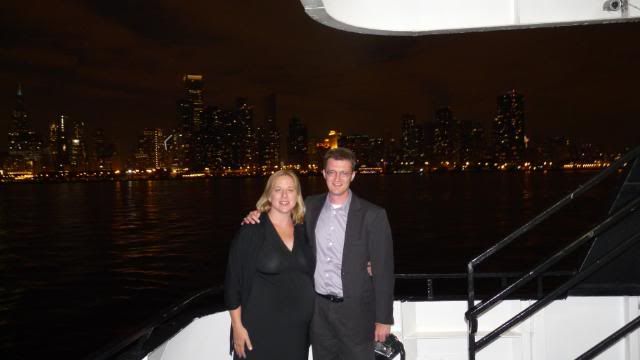 Finally after three hours out on the water, we returned to Navy Pier to disembark.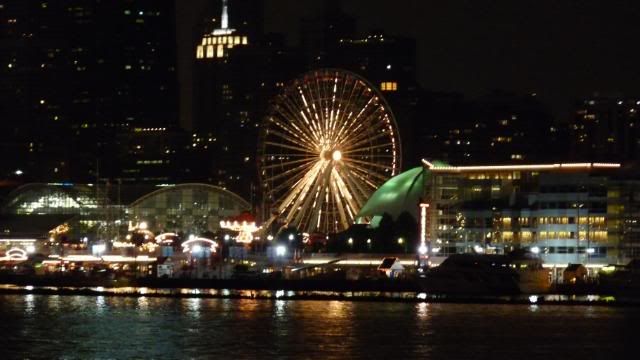 Once up in the room, we turned to our mini bar for refreshment and were knocked off our feet by the prices. Fortunately for us, Julie had negotiated access to the Regency Club which had free refreshments 24 hours a day, 7 days a week, including an open bar on the night of July 3rd which absoultely blew me away. I did not partake.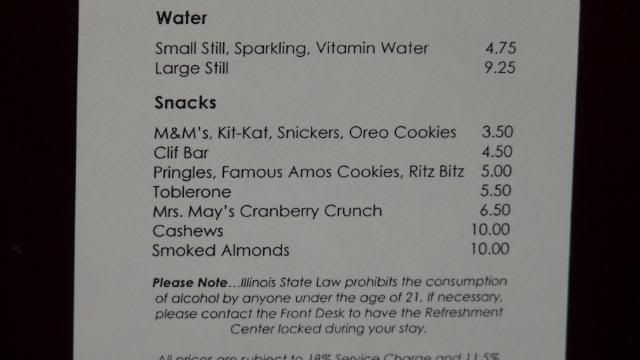 On Friday morning, we went down to see if we could get on one of the Architecture cruises and there was one available at 1pm, so we got our tickets and walked around for a bit.
The Wrigley Building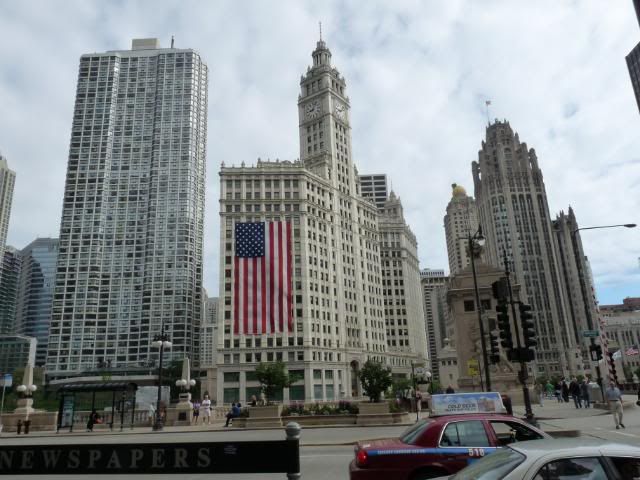 Tribune Tower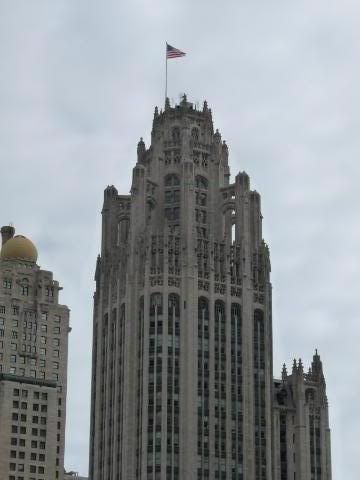 Trump Tower - another one of my favorite pictures from the weekend. Check out the reflection!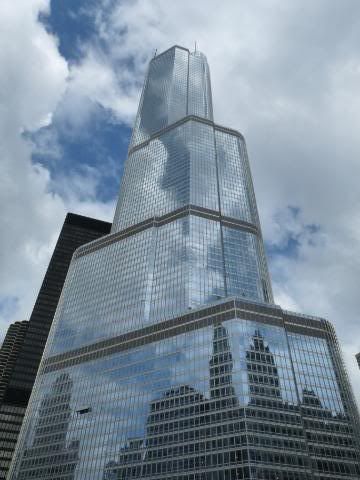 Marina City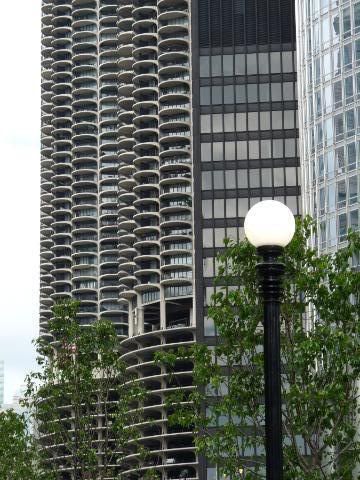 Wrigley Building and Tribune Tower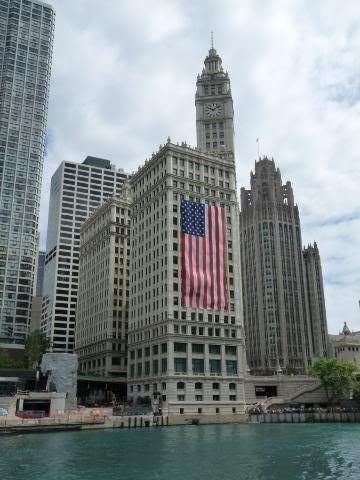 While walking around, Julie stopped me in front of a jewelry shop and demanded that I buy her these really tacky necklaces. I declined.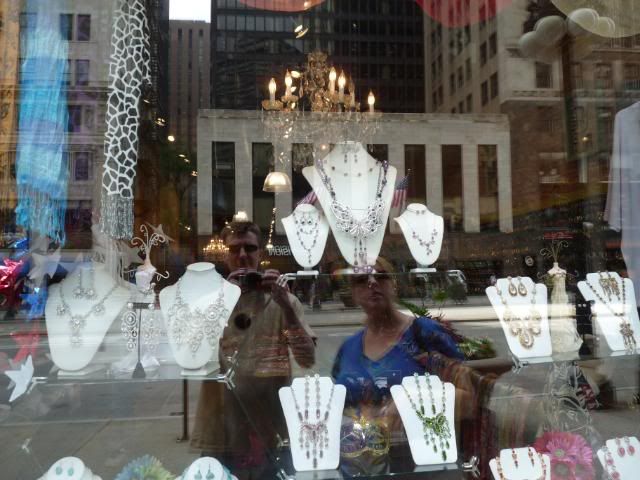 At last, we settled in waiting for our boat.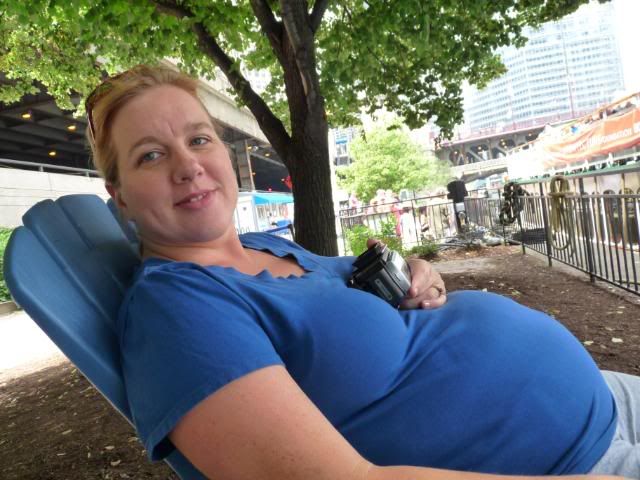 Here it comes!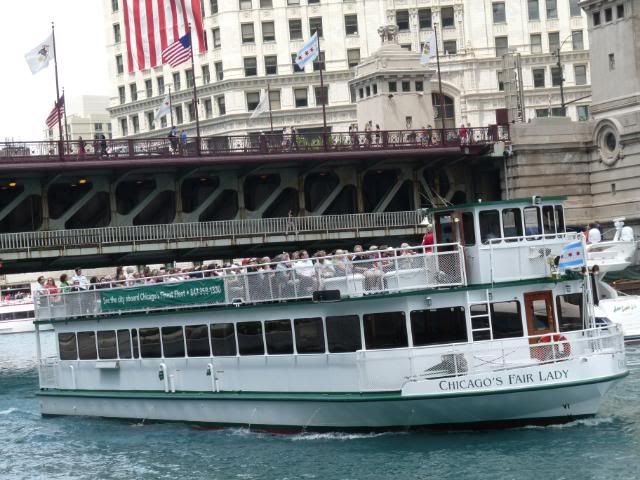 The Chicago Architecture Foundation offers professionally narrated cruises that go up the Main Branch of the Chicago River to the North Branch up to Goose Island, turn around and head down to the South Branch up to the new Post Office and then turn around and head back to the Main Branch and then out to the mouth of the river and then back to the dock.
While I won't post all my pictures from the cruise out of deference to their intellectual property rights, I do have a video of the entire cruise and pictures to accompany which I can share with family members privately.
One shot that I do want to share is this one of the Sears Tower and 311 S Wacker. From this vantage point, they appear to be identical in height even though the Sears Tower is a great deal taller than 311 S Wacker.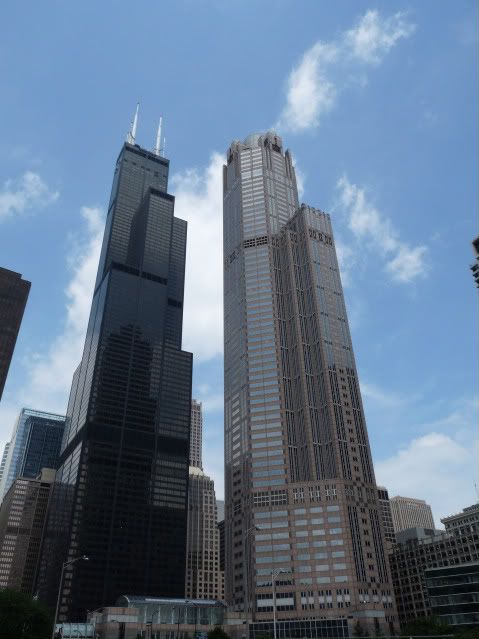 Marina City as seen from the river.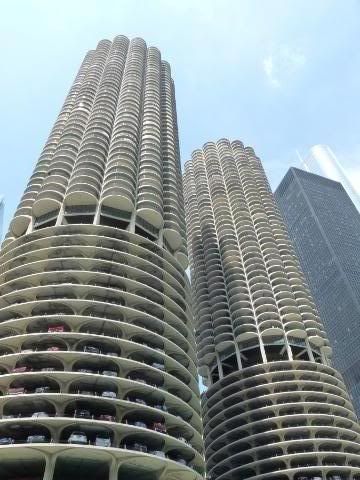 I threw this shot in just to show you how great the zoom is on this great little camera.
These two pictures were taken in immediate succession from about the same distance. If you look at the bottom right corner of the first photo, you will see three very small flags hanging from a balcony.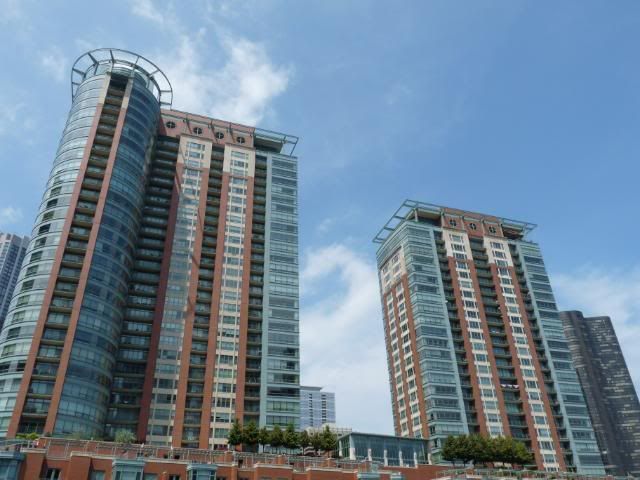 Here are those flags again close up :
A closer up view of the Centennial Fountain. The part that sprays is off frame to the left.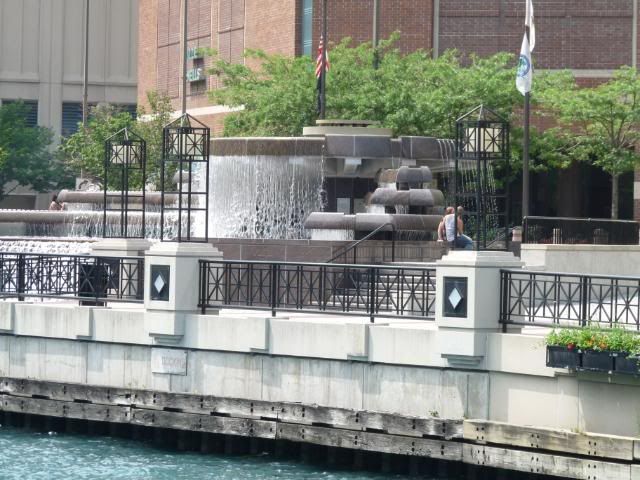 After the cruise, we walked over to our favorite restaurant, Bacino's, to order some deep dish pizza. Since REALLY great food takes a bit to make, we left and walked down to Millennium Park to shoot the sculpture that is known locally as "Cloudgate". This is a panoramic shot of the structure.

I also took a group portrait of some silly tourists, one of whom was quite pregnant.
At long last, exhausted from our day we retreated to our room with our glorious pizza in tow. This is a small Italian Sausage deep dish pizza and it tasted every bit as heavenly as it looks. We ate the whole thing.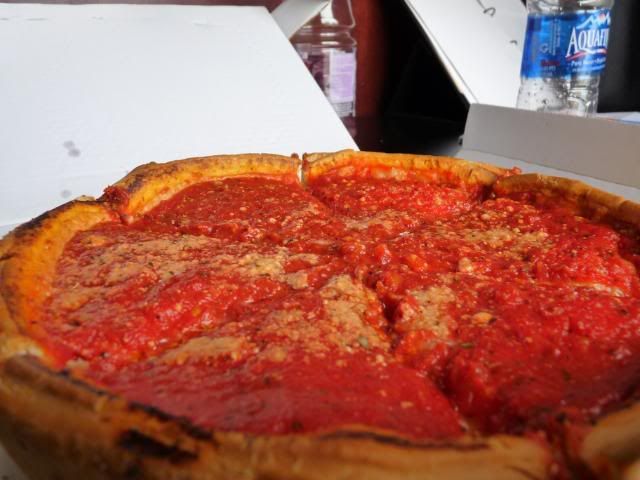 We actually slept through the fireworks - we were that tired. I fell asleep at about 6pm and woke up at 4am. Julie was still sleeping so I took the camera out for a walk. This is the Main Branch of the River looking east.
I started out walking east along the river but I didn't have visibility to any decent shots, so I ended up all the way down by Navy Pier. But wow,
what a view
once I got there.
This is the small lighthouse along the break wall at sunrise.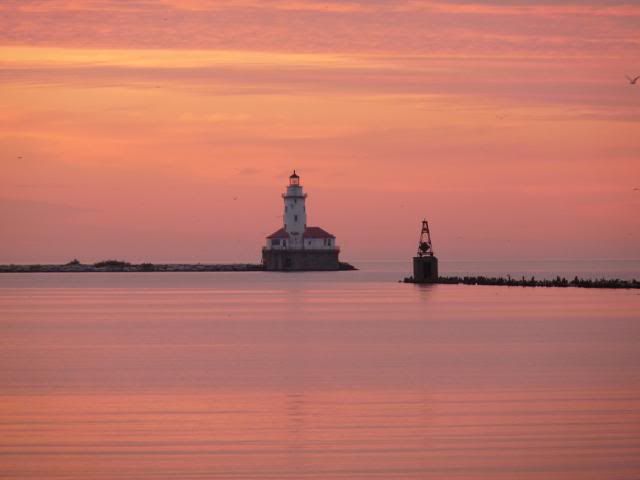 The Navy Pier Ferris Wheel at sunrise. Quite possibly my favorite picture of the entire trip.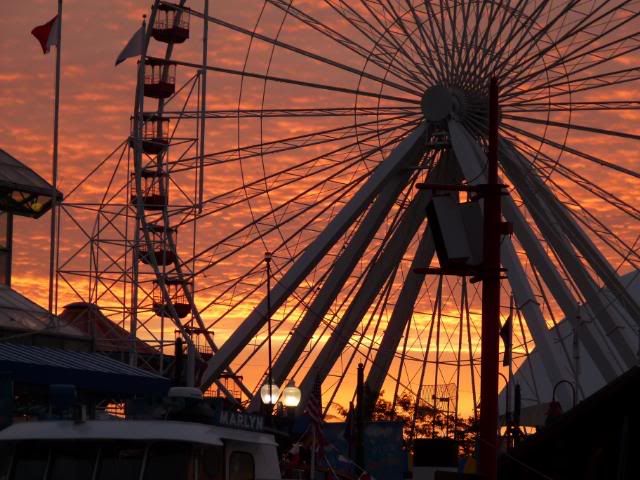 This is Lake Point Tower with the sunrise in the reflection of the building. The building almost looks like it's on fire. I love it.
After finishing my shots at Navy Pier, I started walking back west and considered taking a cab back to the hotel, but instead I found a Starbuck's on Michigan Avenue and got myself some coffee and proceeded to find some absolutely beautiful scenes to photograph.
View of downtown along the river from the Michigan Avenue bridge :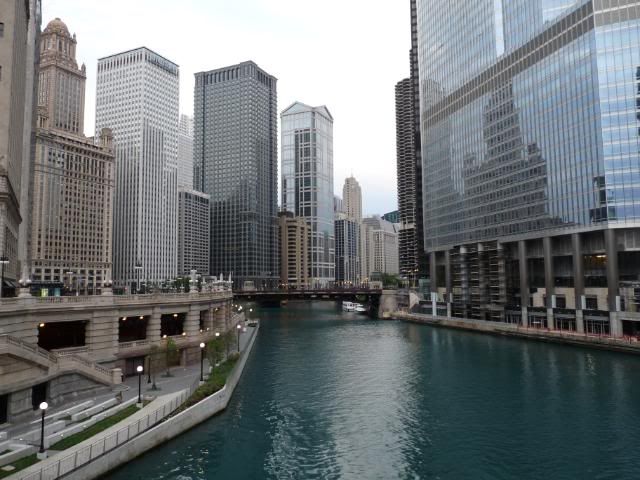 A panorama shot of the Main Branch of the River looking west :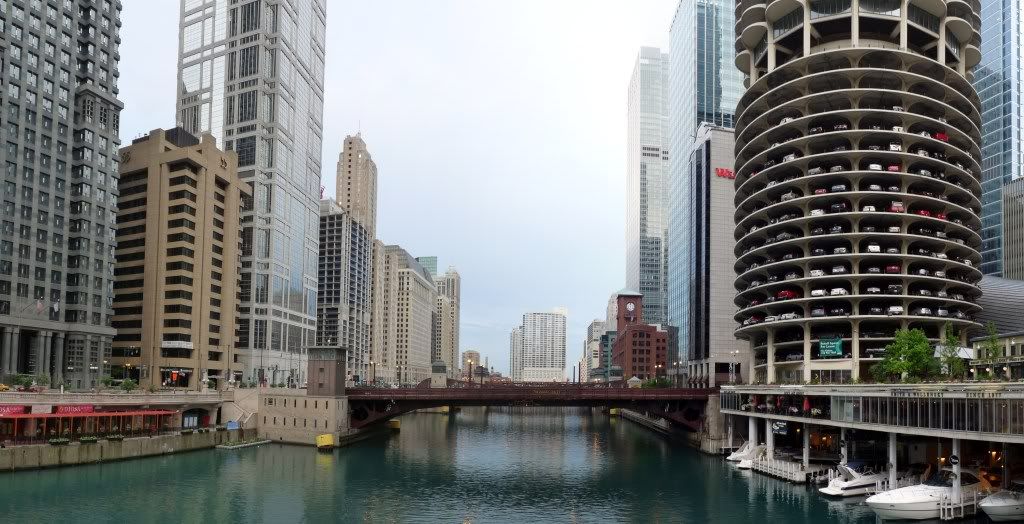 The Residences at River Bend. Check out the reflection - the river was glass like in the morning.
Here are the faces of famous retailers facing the Merchandise Mart. Marshall Field is fourth from the left.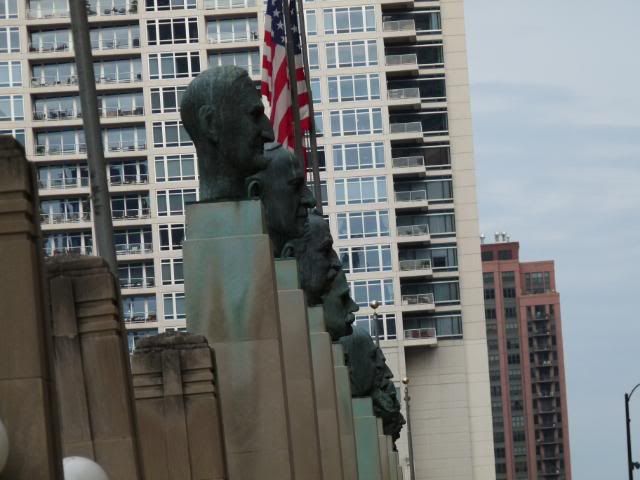 Mr. Field, close up.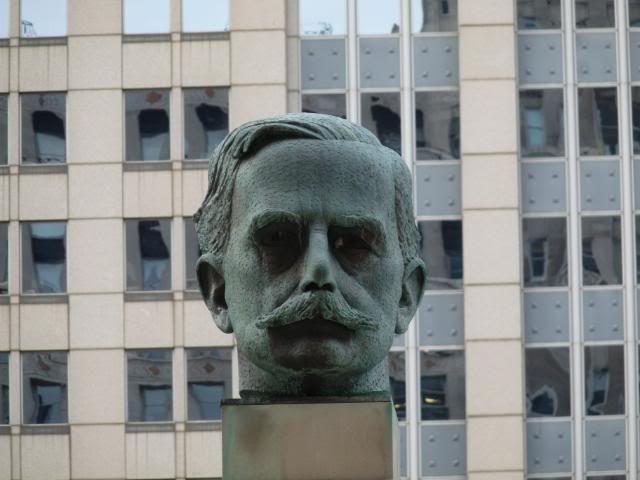 View from under the Wells Street bridge, looking south.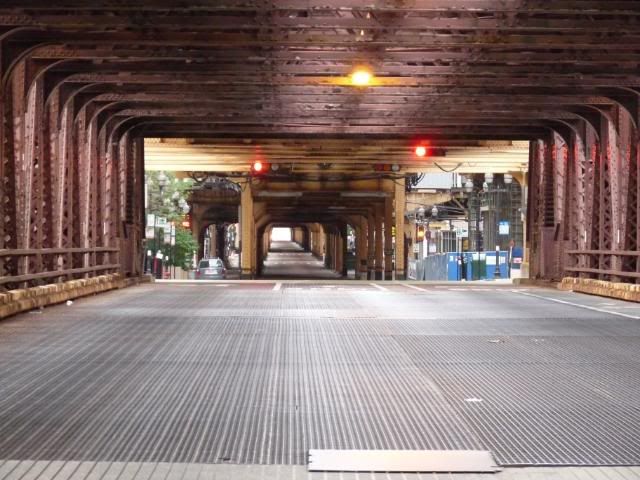 Another Panoramic shot, this time vertically. This catches the reflection of the buildings in the water and the buildings themselves.
Chicago Riverwalk signs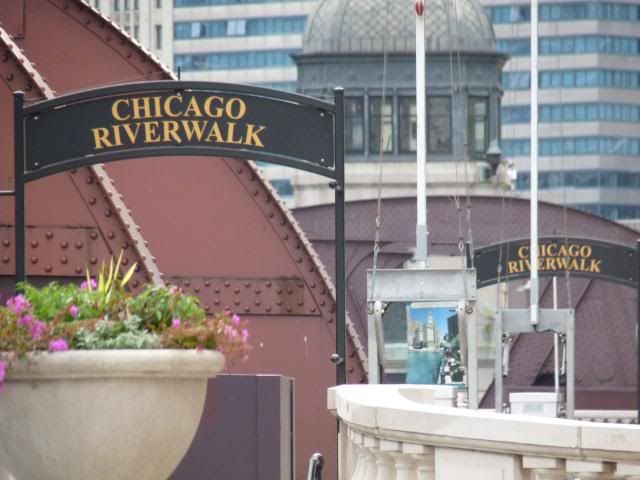 The sculpture at LaSalle Street, looking north.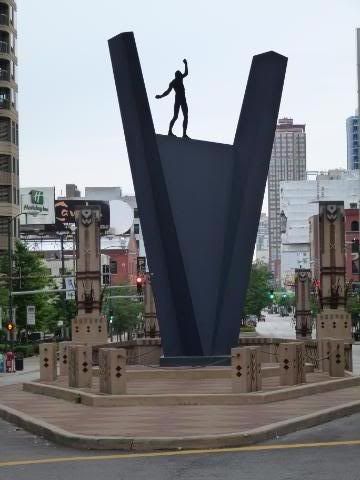 Another view of downtown, overlooking a patio by the river.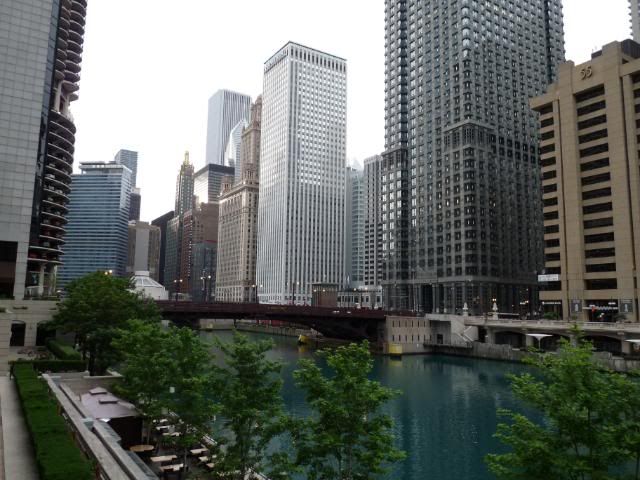 Finally, I returned to the room at about 7am. Julie and I went up the Regency Club for breakfast. Then we walked down to Millenium Park to take some more pictures until our train was scheduled to leave.
These are forty foot or so towers at Millenium Park with animated faces on them. They will smile, frown, and eventually, spit water!
I took a picture of this sculpture mostly for my son, Matthew.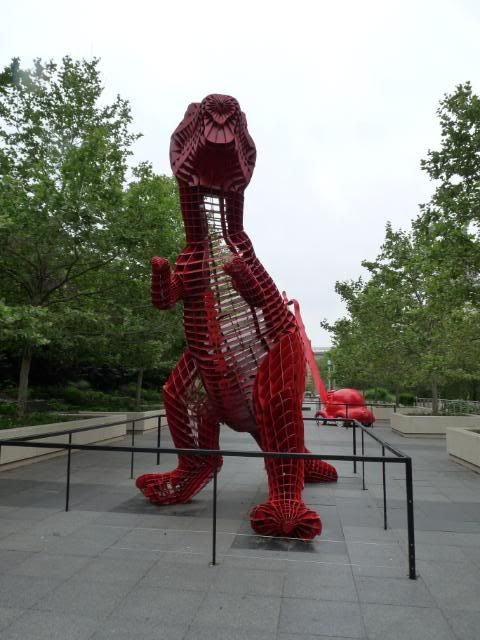 This is actually a bridge that spans from Millennium Park all the way over to the Art Institute. This brudger runs from about Washington all the way down to Adams Street which is quite a distance for a pedestrian bridge.
This is a panoramic of the nature garden at one of the corners of Millennium Park.

And with that, it was time for us to go home, but
what a weekend it was
.