For the uninitiated, Julie and I take turns picking where to spend our anniversary. Each year, we take a weekend together without kids to celebrate our anniversary.



This year was my year to pick and I settled on St Joseph, MI. I kept Julie in the dark literally up to the moment we pulled into the hotel parking lot. "WHERE are we GOING?!?" was a frequent refrain. Our hotel had a fairly nice view of the lake across Lakeshore Drive. It was a fairly nice but non-descript hotel, the Holiday Inn Express about a mile south of downtown. The room was nice, a king size bed, sofa-bed couch, nice jacuzzi tub and the aforementioned view of Lake Michigan. Nothing about it was exceptional, but very nice nonetheless.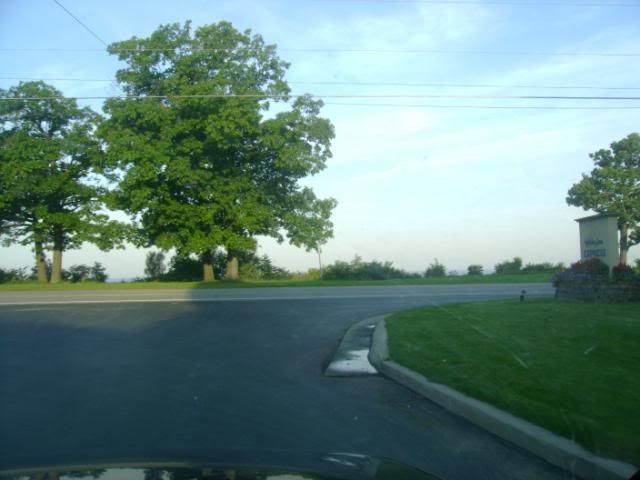 We arrived a bit later than normal on Friday, so Friday was mostly an indoor affair. We did run out to Target to get some exercise shorts for me and some chocolate chip cookie dough ice cream. Yum.



Saturday, we woke up early, had breakfast downstairs (non-descript biscuits and gravy) and headed down to Silver Beach Park downtown to get our workout in. We walked at a decent pace up and down the beach and all the way up the pier and back (more pics of said pier later).



We came back, enjoyed a jacuzzi bath and got dressed for lunch.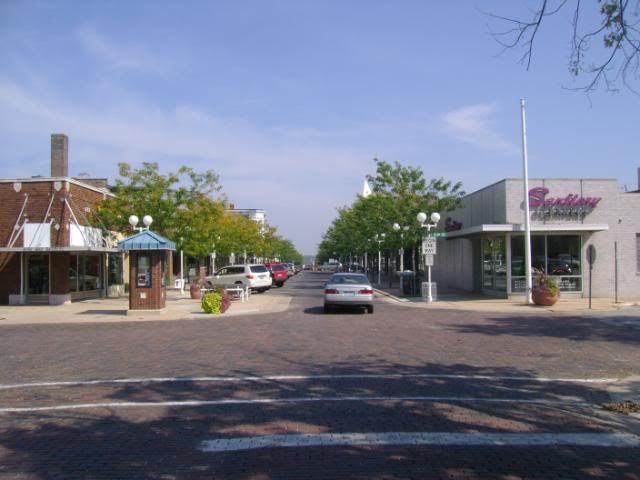 This is downtown St Joe's. Cobblestone narrow one way streets, lots of little shops. A pleasant mix of big names and local flavors.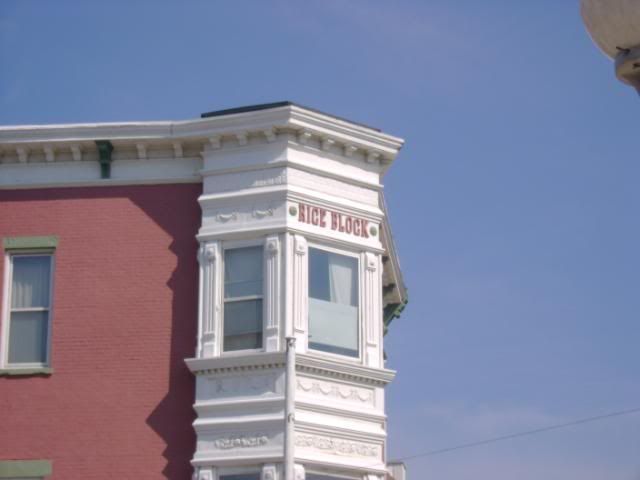 Our choice for lunch was a familiar big name : Jimmy John's which Julie and I knew quite well from our days at Champaign. We both had the "Pepe" (Ham and Provolone on Italian), hers with sprouts and mine sans Tomato.
The restaurant was peppered with signs on the walls. One read "If you do the things you need to do at the time you need to do them, then someday you'll be able to do the things you want at the time you want to do them." Very cleverly stated and quite true.
Another sign as you approach the bathrooms :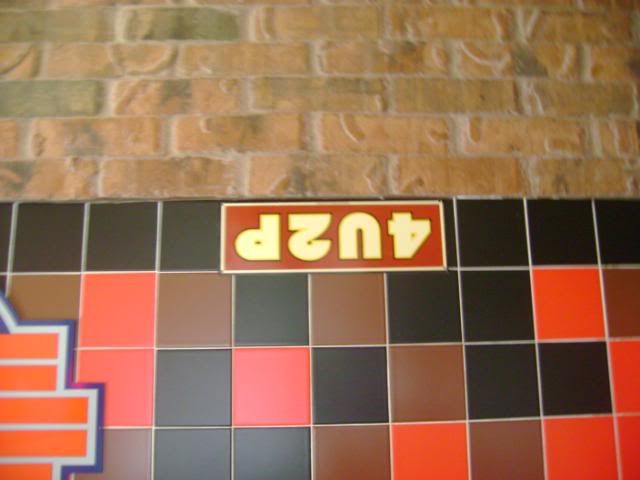 Crass and immature, but so am I.
Our next stop was the downtown Farmer's Market. Nothing particularly unique about this gathering other than the fact that Julie took all the cash I had and spent it on "farm fresh" groceries. I still want my money back. Check out the blond on the left side of the picture. Hubba hubba!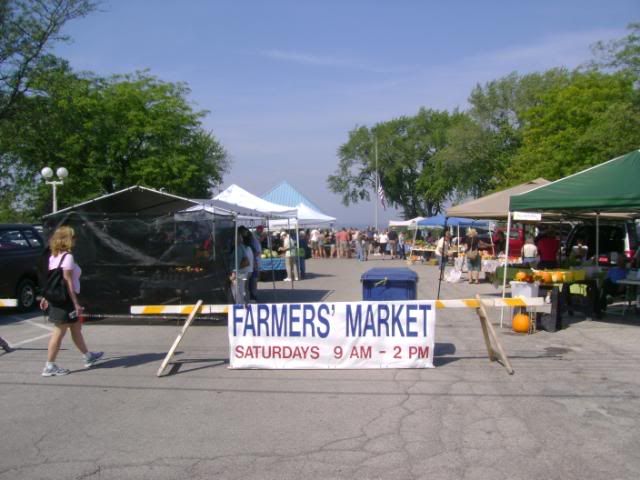 Walking through downtown, we found what could arguably called the ugliest shirt ever made :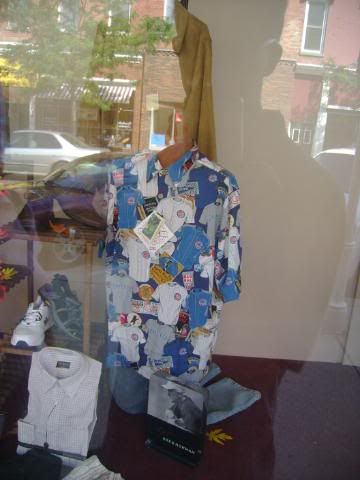 Wait, no, check that, THIS is the ugliest shirt ever made :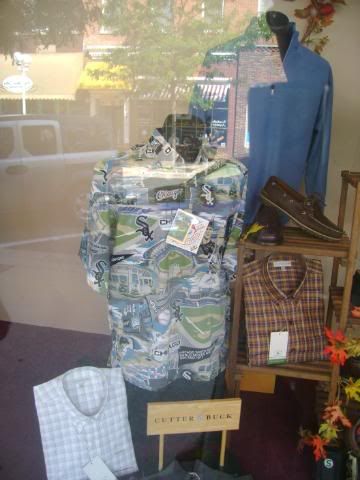 It was nice to see familiar places while shopping on this map of US Lighthouses :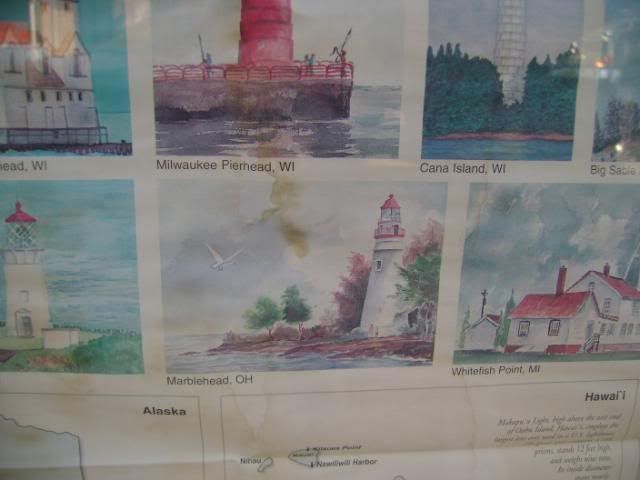 Julie asked me to take a picture of this. Hey, we won't spend $300 in your store but thanks for the free copy! :)
Down by the river, this statue read something about creating sand castles and had some moving, inspirational saying about building them. Clearly, I'm not a very good photographer because I didn't get the caption in the picture. Oops.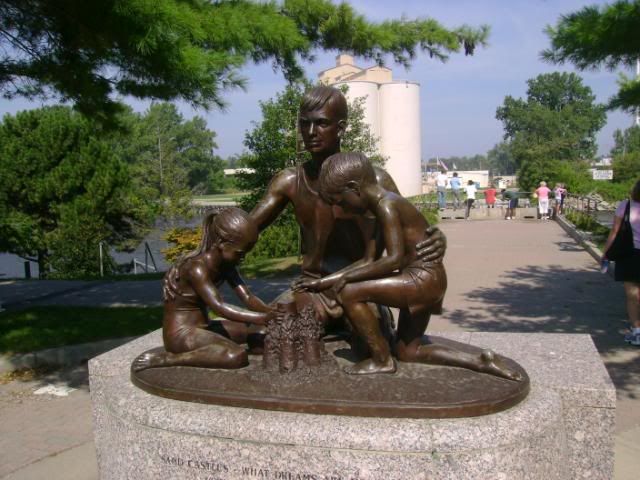 I wish I'd gotten a better shot of this. I'm not sure what it's supposed to be (art), but I like it :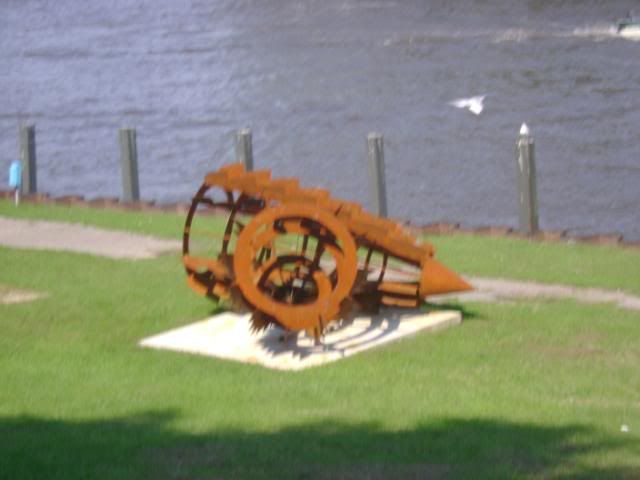 This picture had a variety of quotes from famous poets and authors stacked up like bricks. It was a very charming and thought provoking presentation :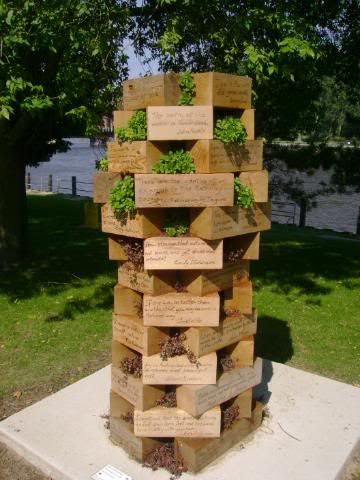 I STILL have NO IDEA what this is for. Nice place to sit, right? The problem is the bench is facing an industrial park and a railroad bridge over the river. Seriously? Is that the best place you could think of to build this? There's that good looking blondie, again. I think she was following me.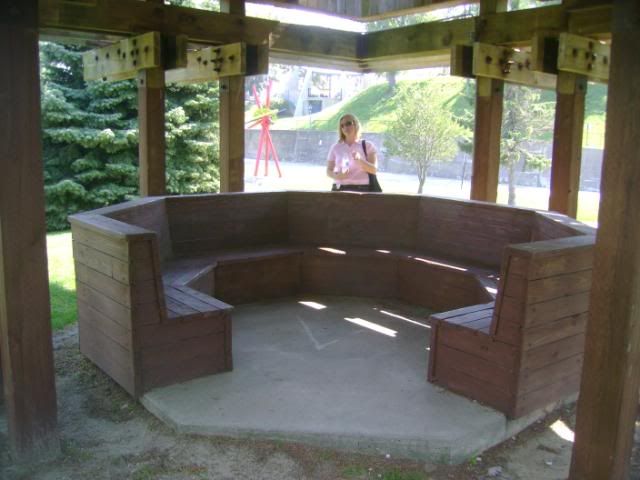 Bridge over the river, turning roughly 180 degrees from the previous picture.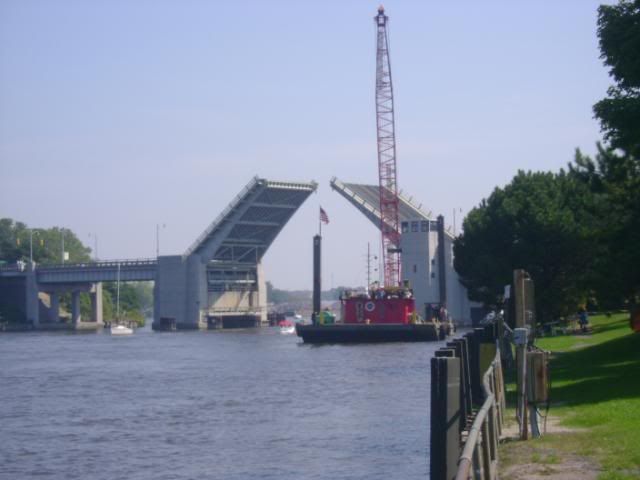 St Joseph has a lot of fairly severe elevation changes. This is one ramp, about halfway up it already :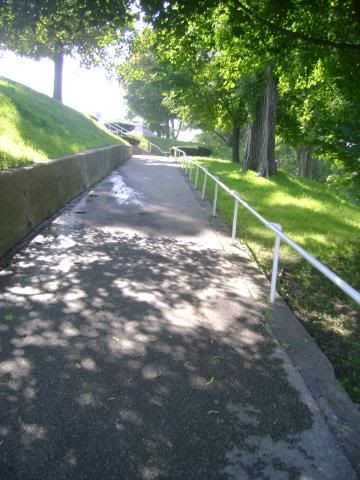 I'm not sure I really understand the purpose of the ramp. It's far too steep for wheelchairs and it terminates in a series of 6 steps...so why again is it a ramp?
There's some fairly impressive art in the downtown area. A fountain :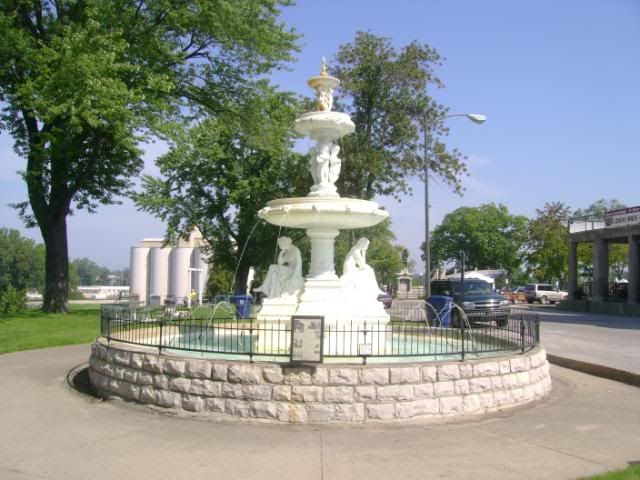 A plaque commemorating the voyages of Robert LaSalle :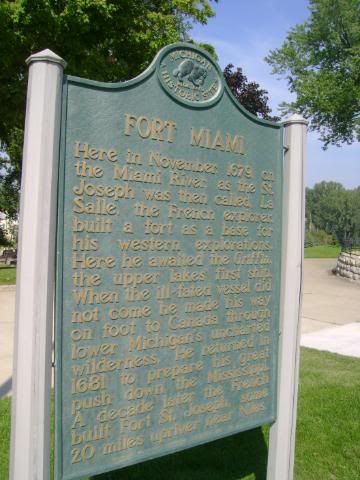 Incidentally, I believe if my research is right that LaSalle was eventally killed by his own men in Texas after exploring a fair amount of the heartland of the US. A good lesson, I think, for exploring husbands who drag their wives cross country.
A visit to the South Bend Chocolate Store uncovered some tasty lighthouses (warning, theme coming) :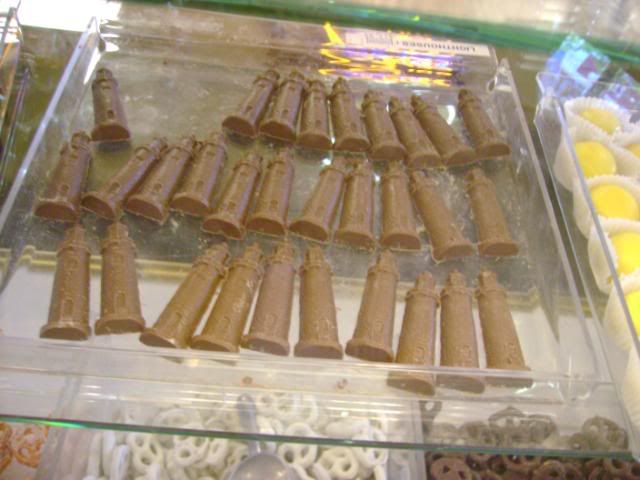 Another picture request from the wife :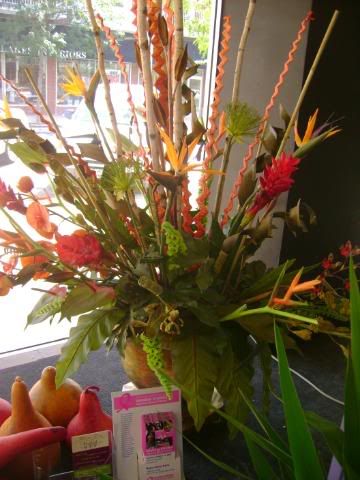 And here, at last, was our greatest source of terror during the trip :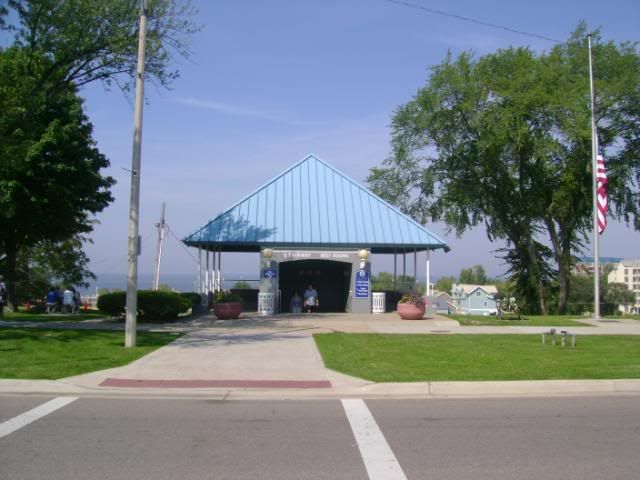 Terror, you say? Why terror? HERE'S WHY :
We went up and down those stairs FOUR TIMES during the course of Saturday and our leggies were HURTIN' afterwards.
At the bottom of those stairs was a very pleasant park / beach :
The beach was "littered" with pieces of "art" like this one :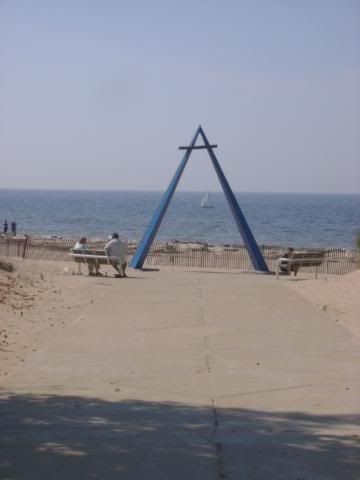 We're still trying to figure out where exactly this thing is pointing to. Julie thinks it's Chicago. Note the sailboat under the triangle. That one's for you, Grandpa!
Speaking of sailboats: Another sculpture, another sailboat :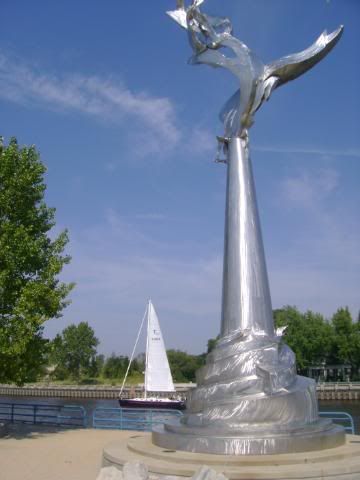 For the second time Saturday, we walked all the way down the pier (WITH camera this time to take pictures of the lighthouse(s)) :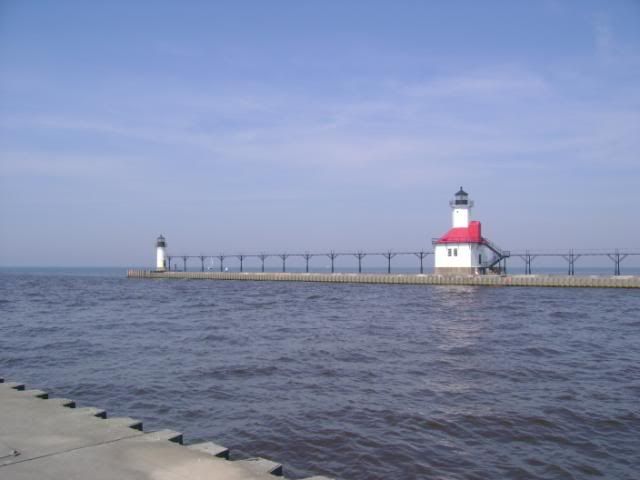 We were stopped along the way by a very nice couple who asked us to take their picture, and I got a very nice shot of them with the lighthouses framing them, even if I do say so myself :)
Finally, the cute blond woman caught up with me and said "Enough's enough. We've been walking for 4+ miles. Take me back to the HOTEL!"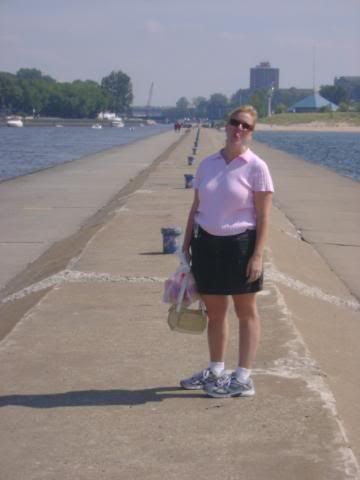 Yes, that's her tongue sticking out.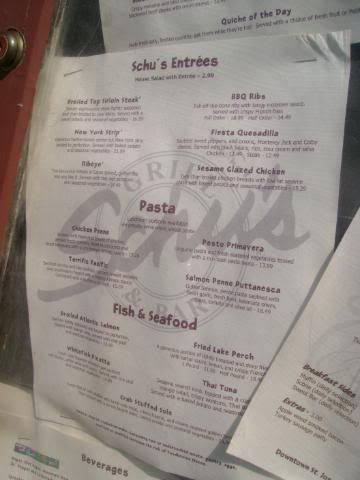 After freshening up at the hotel, we came back into town one last time for dinner where we split a pound of perch and french fries. Tasty, not spectacular, certainly not worth of Kelleys Island quality. We also had a dessert of fluffy cakey crust + baked apples + ice cream + caramel + cinnamon = mmmm MM!
While there, the Chicago Cubs were wrapping up their second straight division title and "WOO HOO!" Ahem. Go Cubs, Go! The waitress gave me updates on the score since I couldn't see the TV and I tipped her appropriately for the extra service.
Saturday night, Julie helped me through my Bible Study for my leadership class on Monday night and then we went to bed.
Sunday morning we went down to the fitness room and did 3.5mi on their treadmills, much to the dismay of other guests who wanted to use the equipment. One woman in particular seemed to lurk outside the door for what seemed like five minutes. I wanted to get off the treadmill and tell her "Look, if you'll just give us your room number, we'll call you when we're done!" But I didn't do that.
Last but not least was a delicious breakfast from the hotel of an omelette, another biscuit (no bland gravy this time), sausage patty, piles of doughnuts and milk.
At last, we packed up and headed home, WAY earlier than we expected and with enough time to spare before getting the kids for me to write this blog! :)