"Another Boys' Weekend?!?" I can hear both of my mothers screaming at the screen... Why do you get TWO weekends? Well, look - if I could have taken Julie along, I would have but our cars have not been getting along with our budget this year, so hence we went different directions this past weekend. Plus, my best friend Matt came to Schererville two years ago and it was my turn to go out there.
So I decided since he was from Chicago and couldn't make it this year, I would bring the city to him :
For the purposes of not embarassing myself or my family, I will leave out the part about how we got lost three times within a mile of O'Hare. We were looking for a McDonald's close to the airport and missed...and missed again, and again...yah, anyways...
Flying is certainly an interesting experience these days, and inconsistent I might add. O'Hare was quite friendly and very simple. I stood looking around for about five minutes before I approched a gentleman in uniform who informed me that my "record locator" was all I needed to get my "boarding pass", not "ticket" as he very nicely corrected me. The security line moved a little slow, but hey, it's Chicago, ya know? Anyways, I had my boarding pass and got through security in 15 minutes. They did NOT check or even seem to care about my shampoo and soap bottles. Different story in Philly - more on that later.
I don't quite understand why both of my flights (to and from) had to change gates. Does somebody have a big dartboard up in the control room and then when he goes to actually give the gate assignments, he says, "Aw shoot - that plane won't fit on that gate..."? Seriously. At least in Philly my "revised" gate was only three somersaults from my old gate. I counted.
It was kind of a nasty rainy day in Chicago - not pouring or scary rainy, just kind of "bleh".
TAKEOFF!
I tried to take lots of pictures of both downtown Chicago and downtown Philly but all you see is this haze in the distance. Someday, I'll have a real camera and take some sweet skyline shots.
Philly is a bit confusing. I landed, walked towards the signs that said "Ground Transportation" and found myself on a bridge over an apparent drive-by / pick-up location. Little did I know this was actually the departure area, not the arrival area, but that's not posted everywhere. Ugh. Anyways.
We had to take the backroads home cuz apparently some guy on the AC Expressway decided his car looked better as a turtle on its back. And it might have...but it didn't help us get home any faster. Finally we got to CHATEAU DE SCHWERT!!! Check it out!
So this is what's known as a "modular home". It arrived on 8 wideload semi-trucks in pieces and was put together like legos on Matt's new property near Woodbine, NJ (notice I said "near". not "in". Are we still friends, Matt? Anyways, the house is FANTASTIC, inside and out. There's a walk out basment, 4 bedrooms, 3 baths, and one silly big television that did not come with the house but is the focal point of every proper 21st century house.
Princess Kaylee was sleeping when we got there, so Matt and I played some Wii. We fought to a close match in Boxing, capped off by a lucky sucker punch by Matt that put me out of my misery (low blow dude, seriously) followed by Tennis and I think Matt won a couple points but no games, over two best of 5 matches. What? I'm just sayin... Then we played baseball where I got a hold of one lucky pitch to win by a score of 1-0 followed by Bowling which I can't do to save my life and Matt channelled my wife bowling for five straight strikes in both games. Ouch. Finally, we broke out the golf clubs where Matt knocked at least a dozen balls out of bounds and still won because I can't putt (well, on the Wii anyways - oh who am I kidding I can't putt in real life either).
Friday morning we got up bright and early and had lunch with Princess Kaylee and then roared out to Six Flags Great Adventure!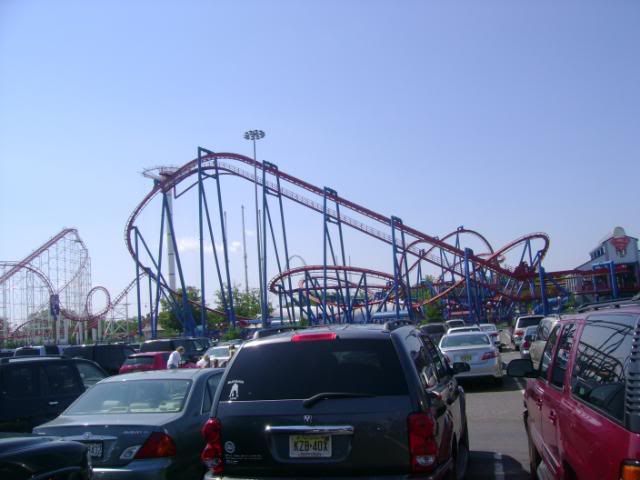 I had thought that being 33 roller coasters probably would have lost their appeal. With that in mind we picked the sickest roller coaster in the entire park to start off with : the Kingda Ka!
Let me explain how this bad boy works for you : You start out in the station house, then magnets accelerate you to ONE HUNDRED AND FIFTY MILES PER HOUR up the sort of tower you see in the picture, then back down over the rediculous hill and back to the station. There was a couple possibly a bit older than us in line before us and she was literally shaking when they came back, but she gave us the thumbs up that it was fun. I had no big issue with the ride until they decide to rotate you 180 degrees halfway up that monster tower. It's a little unexpected but very awesome.
After a half dozen more coasters, we sat down to two burgers (one was a double), fries AND onion rings (HOO HAA!), a large Coke (no Pepsi products in the park, GRRR!) and a medium Coke. So if you're in a REALLY fancy restaurant where you don't have to defend your burgers from flies, yer paying MAYBE $20 for all of that, right? THIRTY THREE DOLLARS was the tab. Whoa.
The handsome couple (er, friends) :
I'd have to say my personal favorites were Nitro, Superman and Kingda Ka. I didn't get to ride on Wuperman when it originally came out so that was new for me. I thought it was all pretty tame except that you couldn't see the rails to know where you were going next. And then all of a sudden you did see them and you realized something wicked was coming up!
The Boys, one more time :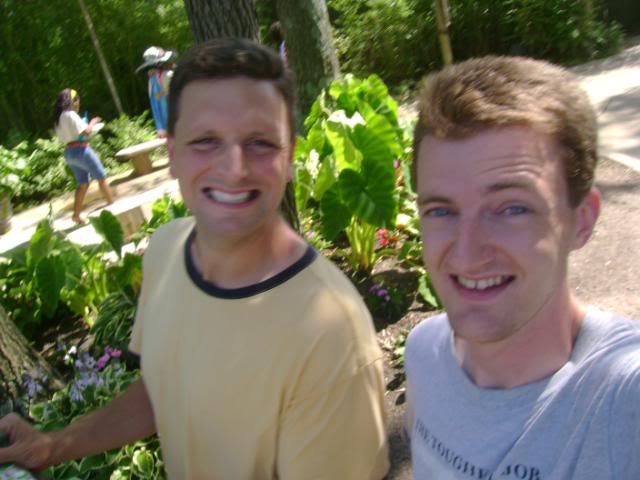 Nitro must be a "Great Adventure" exclusive because I haven't seen anything else quite like it. It's not like it's super original or anything - it's just a bunch of hills (no loops) but MAN, are those some awesome high and fast hills! I loved to put my hands and legs WAY UP and just pray the bar held :)
Finally we were pooped (and quite sweaty) so after picking up a gift for the wife (hee heee heeeee!) we left and headed home for some soccer with the Princess!
More shots of their rediculously beautiful house: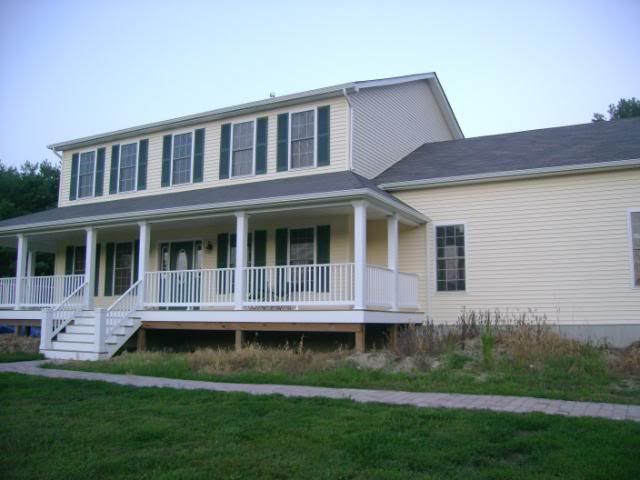 I'm planning to do some panoramics later to really get the scope of it, but the last time I created a panoramic picture I lost 16 months of family photos, so we're going to wait until that online backup job is finished before we do that again :)
Friday night was Batman Begins on DVD so we could all get caught up for The Dark Knight at the IMAX on Saturday night.
Saturday was supposed to be a rest and hang out day but Aunt Shari would have NONE OF THAT, so after ANOTHER amazing breakfast :
we packed up our bag of hugs :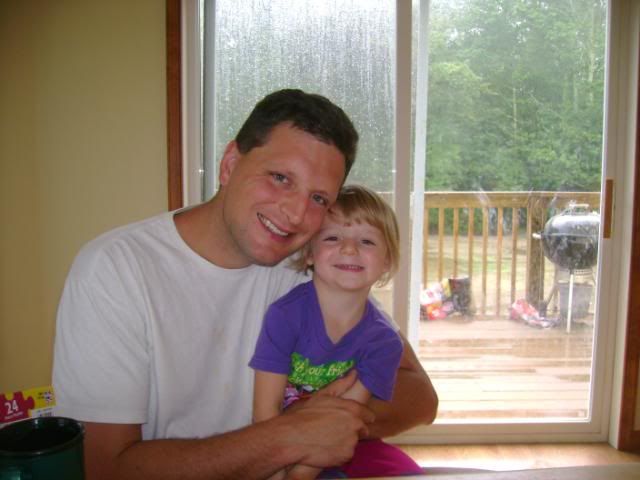 and headed to the GROCERY STORE FOR A DAY OF FUN!!! Ok, no. But these photographs prove once and for all that this was a business trip and that I should be able to expense the entire vacation, right? For those who don't know, my job deals with Sales Support for the Supervalu grocery chain, of which Acme is one of their Retail Banners.
However, we DID go the BOARDWALK for some MORE FUN AND SUN!!! Ok, mostly it was just HOT, but we got to watch the kiddies (left is Shari, middle is Alaina (or "Bug" as her friends call her) and the right is Princess Kaylee) go on lots of rides and have fun!
Although the boardwalk goes on for miles, we spent most of our time at Morey's Piers.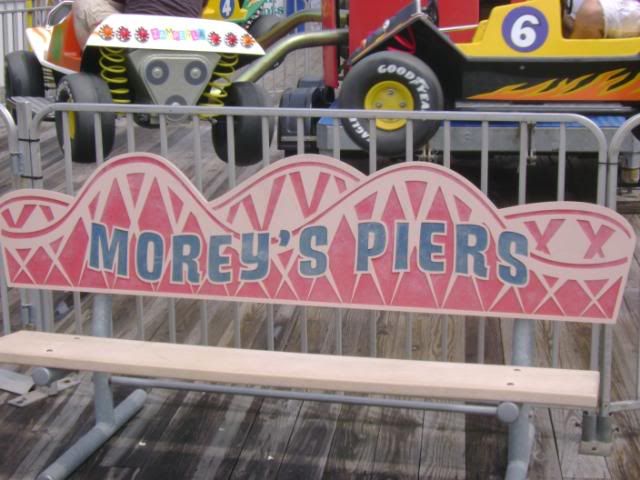 The big event of the day was the rediculously big slide. Kaylee had a blast!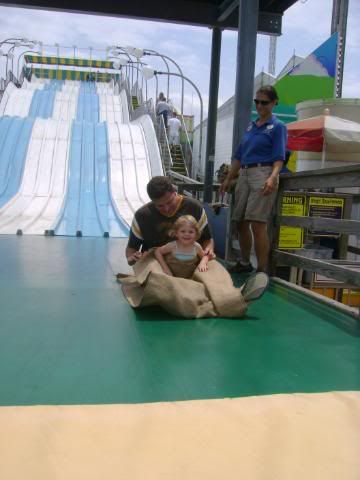 Friends on the train (gosh darn cute kids) :
Young lovers at the park (OH! that's Shari and Matt!) :
Uncle Jason getting some extra-special Princess Kaylee time...hey...Where's your daddy, Kaylee? "He's wif Bug!"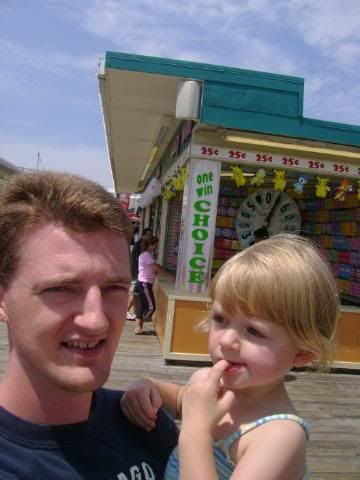 And Bug is clearly not pleased :
For the record before DCFS gets involved, all eyewitness accounts agree that this was Miss Alaina's idea until "push came to shove" and then push decided it didn't like shove and would rather try again some other time. Shove grabbed Push and went down the slide anyways.
Matt and I ate some monster supreme pizza slice while Shari had funnel cake - pregnancy hormones. Don't ask, don't touch, just trust me. Give her the funnel cake and step away. And for God's sake, don't smuggle a bite while she goes to take her kid to the bathroom (guilty...)
So after we got Miss Alaina calmed down, we persuaded here to eat a rediculously large piece of pizza. Princess Kaylee says "Buns? We don't need no stinking Buns!"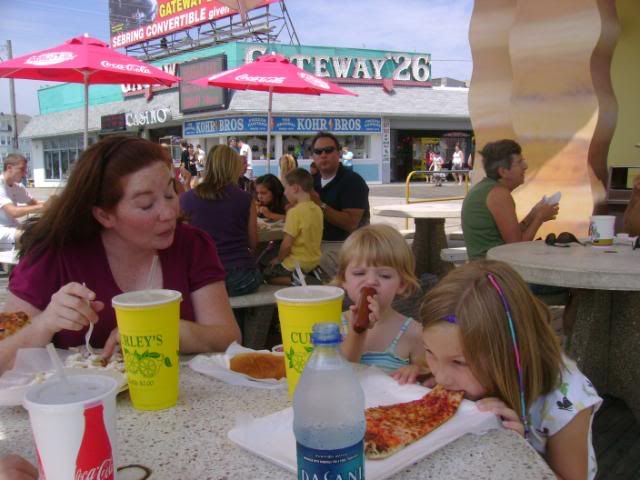 Daddy showin' her girl how to SHOOT :
And at last we were done, sunburn and all! Since Kaylee jumped into Matt's arms, guess who got to play dad with Alaina? You guessed it! Lucky me. :) But it was only a short distance and she's pretty cute so I took one for the team. :)
So we ran the kids over to Matt's friend's house to babysit so we could head to ATLANTIC CITY, BAYBEE!!!
Ok, so we were only there for a few hours and all we did was eat dinner and watch a movie, but it's ATLANTIC CITY, BAYBEE!!!
Anyways. The TV at our table during dinner was tuned to this European ESPN type channel except they had no sports whatsoever that I recognized. Rugby, Soccer, Golf - come on! what is this?! Where's the Brett Favre watch? Where's Manny playing these days? These people said their news with a straight face like they just didn't care.
So after a Yingling beer and a Caesar salad (wuss, I know, I know...but I was having ISSUES again...), we ran to get in line for The Dark Knight. We were second in line behind a nice foursome playing Go Fish in line. It was a bit awkward every time they had to draw a card out of the girl's hoodie sweater, but whatever.
Ok, here's my very succinct review of The Dark Knight : it's a good movie, maybe even a great one, but I left sorta scratching my head about what all the media frenzy surrounding this movie is all about. $400M in 17 days? That's just silly. Good popcorn flick, keeps you guessing right up to the end, makes you think, lots of surprises, good flick. If they'd given Batman a lightsaber I may have wet myself but apparently lightsaber crystals aren't available for license by other media companies. Booooo....
The trip back was uneventful and mercifully short. We stopped to pick up the baby girl (oooh, excuse me...Princess Kaylee) and talked briefly with Alaina's mom and dad. Since I'm bad with names, I won't chance it. :) If you get to read this, your little girl is adorable.
And that was that. Back to the house and straight to bed. First thing up in the morning and off to the airport. I was treated to "WaWa" coffee which apprently has mystical qualities that were a bit lost on me :)
Ok, so the PHILLY airport gets a hold of my carry on bag and as soon as the X-Ray guy sees my Shampoo and Soap bottles, he starts yelling at everyone in line behind me to pull out their toiletries so they can be inspected. My one quart bag (PER THE RULES) was sitting in an EXTERNAL pocket ON MY BAG NOT HIDING FROM ANYONE...I'm okay. I had to go in the bathroom and have a good cry but I got it out and it's all good now...
I was amazed at how easy it was to breeze through O-Hare. I was off my flight and on the Blue line train inside of 10 minutes. Awesome. Plus, I had a CTA City Pass Card so I just breezed right through smirking all the while at the people feeding wrinkled bills into the prepaid card machine. Yes, I'm immature... and so are you... and wahtever you say bounces off me...ah, nevermind...
I was downtown in a jiffy - ran to the train station to see when the next South Shore train was (don't know the weekend schedule as well as I know the weekday schedule) and I was an hour early so I went to get myself some lunch. I intended to hit McDonald's but for whatever reason, I went out of the train station a different way and I saw Qdoba instead. STEAK SALAD FTW!!! Extra Picante Ranch, please! Yum, Yum, Yum!!! Costs twice as much as McDonald's but WORTH EVERY PENNY!
On my way back, I stopped to check out the Michigan Ave bridge over the river :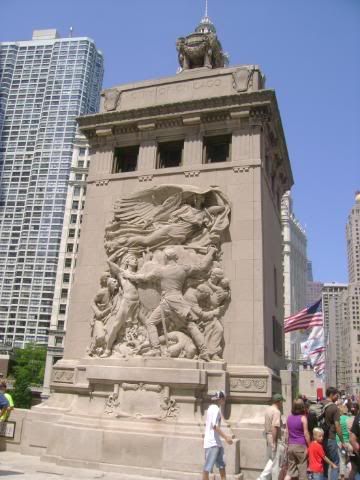 and I also photographed some real estate hotshot's new tower downtown. I'm not really sure who the guy is but I think he has exceptionally bad hair on his TV show. Starts with a "T"....
For those who have seen The Dark Knight, this should look familiar to you (by the way, I can't tell you how many times in that movie I said to myself, "Hey! I know where that is!" :
And finally to my train!
We're looking forward to coming back to NJ with the whole family!
See you guys next time on the Williams Family Weekender!