As stated in earlier blogs, my son is fascinated with all things trains. Momma and Kelley took a full day trip to the "Covered Bridge Festival" and no, I don't have any idea what that is either other than the fact that it's girly and boys aren't allowed. Sounds good to me.
One of the stops along my train ride to work is 57th St which is the stop for the Museum of Science and Industry. I thought Matt would really enjoy the opportunity to ride on the same train as his daddy does and we could go see the miniature trains at the Museum.
It was good plan and it sorta worked. Sorta. We got to the East Chicago train station with just enough time to get up to the platform and catch the scheduled train (trains on the weekend run every 2 hours, so it was catch this train or drive up to the museum). I should have known this day was going to be a little unusual when they said the scheduled train was running 30 minutes behind schedule.
Matt watching for the next train :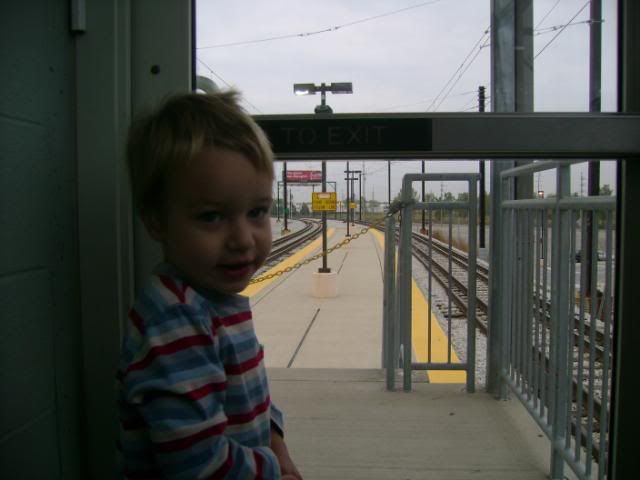 Not wanting to keep Matt standing up and quiet for 30 minutes, we headed back down to the little snack shop in the train station to enjoy a couple cookies that Momma had made for us.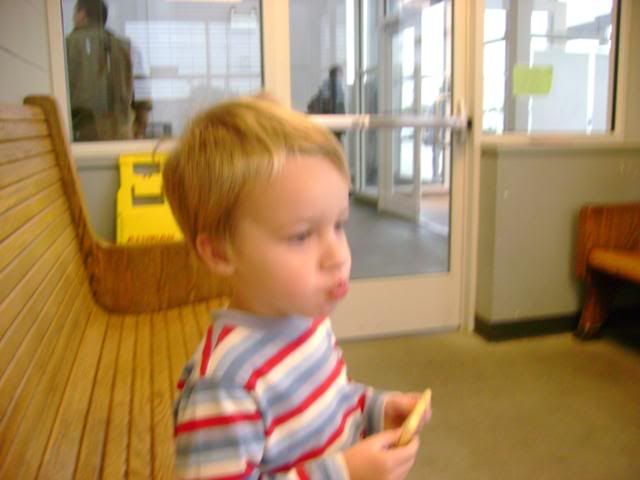 I have to say that Matt was exceptionally good the whole day. We finally went back up the platform to catch the train. Matt leaned his head out so he could see the train coming. I picked him up to make sure he didn't get too adventurous. As the train got closer, he grabbed me a bit tighter and as the train flew past us, he clenched a bit. I don't think he was quite prepared for how close the train was going to be to the platform. I gave Matt my previous month's ticket so he could have something to show the conductor (he rode for free).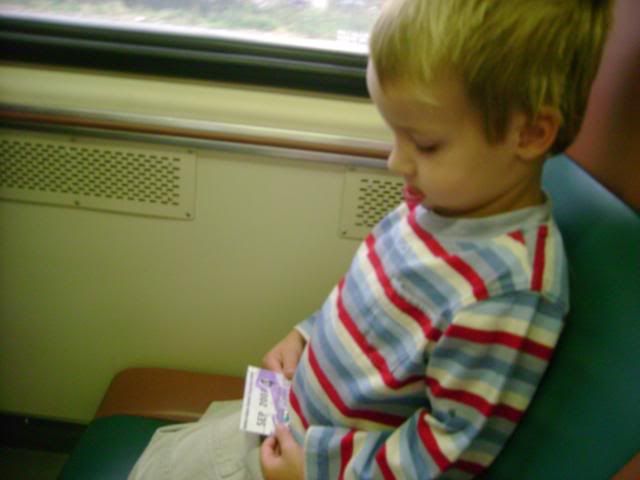 When he saw trains outside the train we were riding in, he was absolutely in seventh heaven.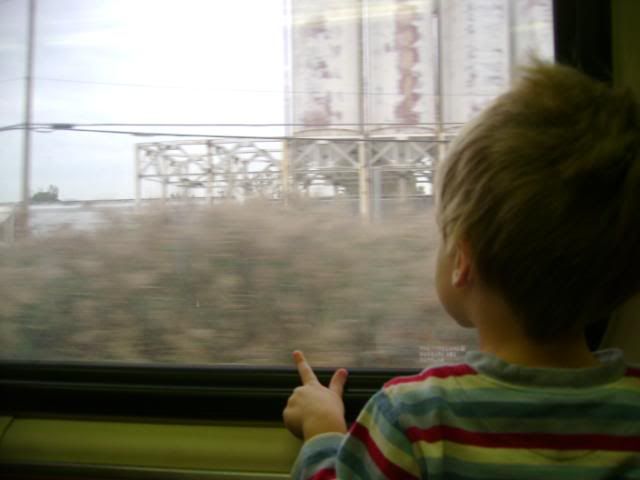 We finally got to the museum and found out we were actually 15 minutes too early. So we sat down and waited. Then we toured the Star Wars exhibit (separte blog entry, not all that impressive if I'm being perfectly honest). Following Star Wars, we went to see Matthew's trains. He was extremely excited.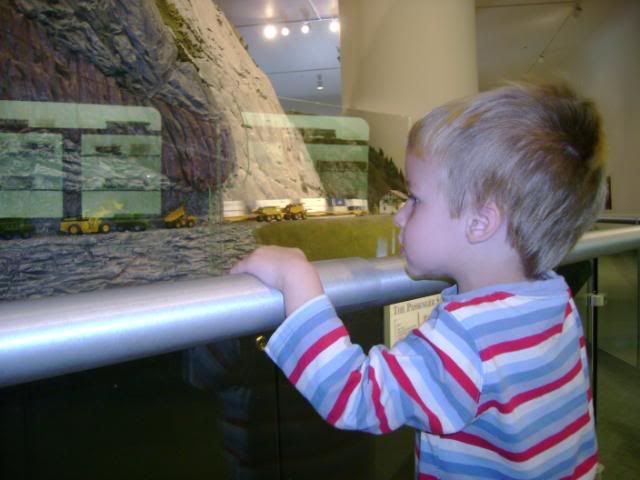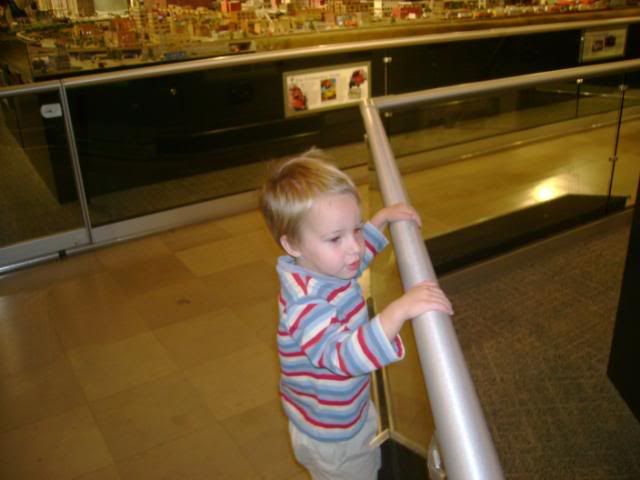 After about an hour of this, he was getting pretty pooped and was ready to go, but unfortunately we had just missed the scheduled train. If I'd thought about it, we probably would have caught the train because it was delayed. So I marched him around MSI for another hour and then he was definitely done.
Thinking that we had plenty of time until the next train and remembering that I had seen a McDonald's on the train, we set out in search of some lunch (I had not eaten a thing all day). We walked from 57th to 55th only to discover that the McDonald's was all the way up at 51st and I had no desire to drag Matt all that way plus I didn't think we could make it that far and back before the next scheduled train (notice how I keep using that word, "scheduled"). So we went to a small coffee shop in the train station for 20 minutes and then headed up to the platform to wait for the train.
About 5 minutes before the train was scheduled to arrive, they told us (via a loudspeaker, there were no ticket agents on site) the train heading into Chicago was 30 minutes late and the one coming from Chicago to take us back home had been cancelled. About 30 minutes later, they told us that the next train out of Chicago was also cancelled and it would be 4pm (four hours from the time it was) before we could get on a train to go home. Oh, and the delayed train coming into Chicago still hadn't arrived.
Julie had my cell phone, so I had no way of getting more details. I briefly considered trying to take a cab home, but the cost of doing so just boggled my mind. I finally figured the best thing to do was to get downtown and figure out what the heck was going on.
I went to the southbound platform and the inbound train finally shows up, an hour late. I get on and the conductor starts yelling at me saying they weren't supposed to take on any passengers. She told me to exit the train, but I was having no part of that. I was a monthly paying customer and they were stranding me in Hyde Park for 4 hours. We had a testy but short exchange, and she let me ride. I think once she got closer to me, she recognized me as a frequent rider.
Matt was running out of steam and fast. At about 12th Street, he crawled into my arms and quickly fell asleep. It turned out that the next train outbound was 2pm, not 4pm, so we got on that train and headed home. I had wanted to go to Subway and get something to eat (still starving) but the thought of trying to manage a sandwich while Matt was still sleeping convinced me not to.
Matt slept most of the train ride home and he was about as adorable as he has ever been. It was one of those really neat father-son moments, despite my hunger and mild discomfort of trying to get into a position where he could sleep and I could sit.
On the drive home we stopped at Wendy's and I got some food (finally) from an exceptionally perky (and loud) window attendant. We finally got home, no worse for wear from our little adventure, but a little tired and with a mild headache.
Matt and I settled down to watch some Thomas the Tank Engine and I said "I love you, baby." He replied, "Love you too, Daddy." It was a pretty special moment and well worth all the difficulty of the day.