Every year, the missus and I take the kids to grandma's and find a place to go for our anniversary. My wife prefers a jacuzzi tub, I just like a little quiet. We have been to Door County, WI, Kankakee, IL (wedding night re-visit), Cape May Courthouse, NJ, Cedarburg, WI (in June due to pregnancy), Champaign, IL, Minneapolis, MN and this year Indianapolis, IN.
We have always stayed at a Hotel or with friends (NJ) so this year we decided to stay at a bed and breakfast called the "Stone Soup Inn" just west of Meridian St (the East / West divider of downtown Indianapolis) and just north of I-65/I-70. It's a charming large old house that two very young owners (couldn't have been much older than college grads), who have done a decent job of remodeling and showcasing. It doesn't appear to be in the best area of town, but once you're in and parked, you hardly notice.
There are three stories to the house - a public first floor that includes an entry room :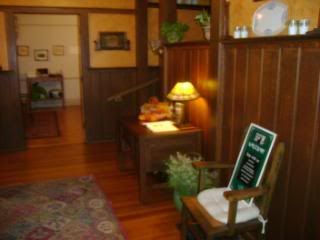 The front door is to the left of the picture. To the right is the stairs to go up. At the far side of the entry room you can see the dining room :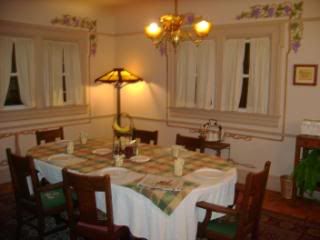 Their kitchen is through a swinging door to the right. We had Cinnamon Raisin French Toast on Saturday Morning and some weird baked omelet this morning. Both were nicely done but not great.
To the rear of the house, there is a very nice living room with a piano and lots of seats.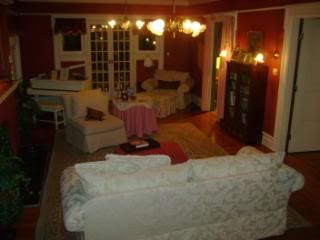 If you would have turned around from the first picture you would be facing their mini library with books and movies.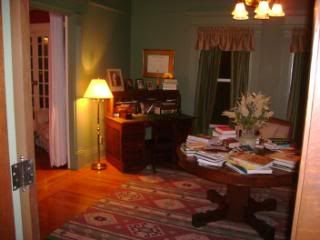 They had a decent selection of materials.
A view of the stairs from the top down :
Outside our room (and everyone else's on the second floor) was another common sitting area :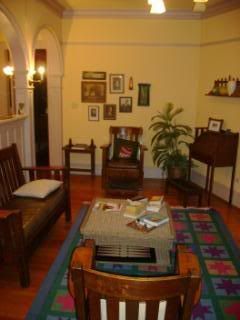 Off to the right is a walk out porch which some of our floor neighbors sat out on on Friday night, two very nice couples from Illinois.
Here's where I had a minor issue with the bed and breakfast - it's very communal, not a lot of privacy. I had no real problems with our neighbors - once I got to know them over breakfast, I rather liked them. But out room was literally right off the porch and there was a window there. Once I got over it, it was no big deal, but it took some adjusting.
Our room was the "Lily Room". Why Lily, you ask? Well, because they painted it green and dug a 6-inch deep "lily pond" out the front window :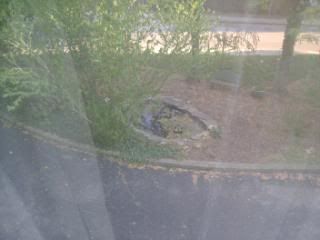 It's not as big as it looks - trust me.
Closer version :
Our weekend had two themes : Greek and Chinese.
1) Greek because we went to a Greek restaurant (more on that later this week) and watched My Big Fat Greek Wedding on TV on Friday night (not once but twice),
2) Chinese because of the decorative stylings in our room (lily = Chinese? who knew?) and hence that's what we had for dinner on Friday night! We couldn't finish what we ordered, but for $10 we were stuffed but good.
Chinese (Japanese? Asian?) decorated woodwork :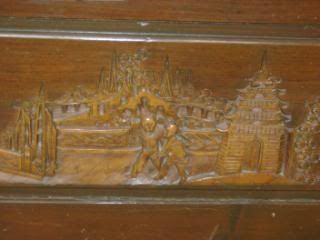 Woodwork is really hard to photograph.
I completely botched my anniversary present for my wife this year. I knew exactly what I wanted to get her but I took it for granted that I could get it at any old store which of course I couldn't, so ... more on that later when it comes in the mail. late. again. Oops.
The seventh anniversary gifts are traditionally copper and wool.
My presents were copper colored picture frames :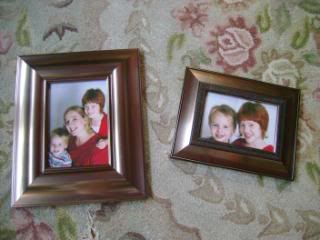 and a 10% wool Cubs hat!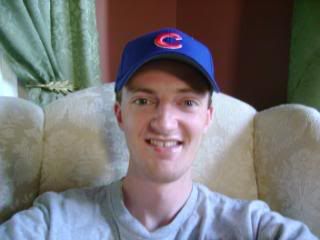 My poor wife had to put up with me singing "Go Cubs Go!" all weekend long as the Cubs just dismantled the Pirates at Wrigley this weekend. To make things even better, our alma mater was in town at the RCA Dome and beat up on Indiana, forcing 4 turnovers and blocking a punt en route to a 27-14 victory! Go Illini!
I'll post more on the rest of the weekend later this week. I have a big interview tomorrow that I need to study up for!