Some years ago, my grandparents moved down to Florida to retire and have since invited me many times to come visit them. My wife has always wanted to go to Disney and while I thought the idea was terrific, the reality of the expense always prevented us from doing it. Finally, this year, I just decided that I needed to visit my grandparents without the rest of the family. You can only overlook an opportunity so many times.
It was quite cold in Florida. The news channels were all in emergency weather mode as temperatures dipped into the high 20's. For me, the concept of 20's being cold seemed positively absurd. We hadn't had a high in the 20's in Chicago for weeks. Still, the usual lush greens of Florida had been almost completely overtaken by browns after weeks of near-frost or frost conditions.
Still, it wasn't exactly beach weather. That didn't stop us from driving down to Sand Key Beach Park where the bikini babes were wearing a bit more clothing than usual as evidenced by the picture below.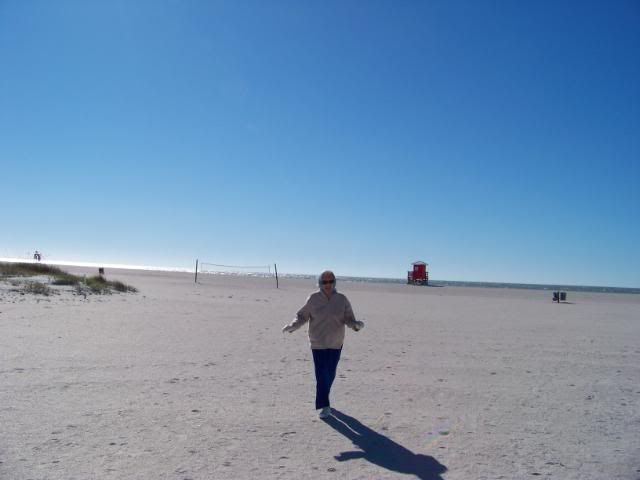 I was (at times) horrified by the choices of colors in the greater Tampa area. Witness this pink church for example - YIKES!
I found these evacuation route (for hurricanes) signs sort of interesting - not something you see in Chicago.
At last, we arrived at Timber Pines in Spring Hill. Timber Pines has 3 or 4 golf courses and a rather large housing development spread over roughly a 2 mile wide by 1 mile patch of land. I found their development to be quite nice. Witness this picture looking over one of the golf courses :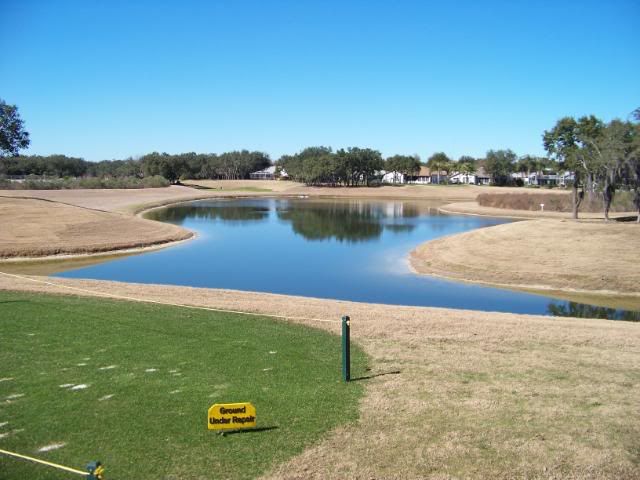 I believe we went to Bare Bones Fish and Steakhouse for dinner although after the Williams Happy Hour, my cognitive abilities were somewhat impaired. I had a wonderful tasting grouper (Grandpa was on a serious ROLL with his menu recommendations this weekend) which is a nice soft fleshy fish with wonderful flavor.
About this time, I noticed that none of the batteries I brought with me for my camera were working, so I didn't get a lot of pictures from day one. On Day Two, Grandpa and I went to Big Lots to pick up some batteries and I discovered first hand why you should never ever buy batteries from Big Lots. I bought 8 Duracell batteries for $4.50 and promptly burned through the entire pack in two days. I only got about one hour of picture taking from each pair. I am fully well aware that my camera has an extreme appetite for power but that's just ridiculous.
After lunch, we drove down to Homosassa Springs Wildlife Park where a very nice volunteer at the park took our picture in front of the manatee sculpture. The spring in the park feeds the water with warmth which gives the manatees a safe place to live. Water temps under 60 are dangerous for manatees.
Also at the Park were Alligators (or is that a Crocodile?) Either way, they weren't moving.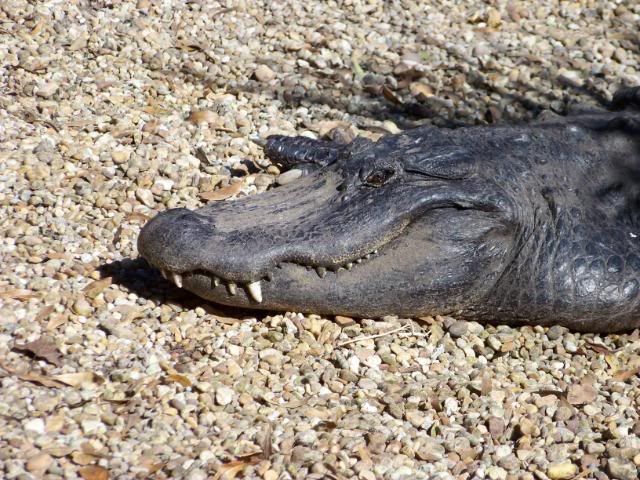 This one is a bit hard to see but there is actually a river otter right underneath that bird.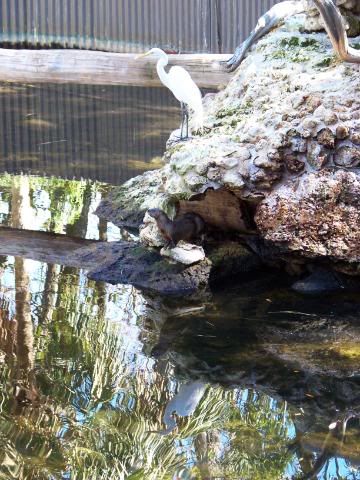 This big cat was not feeling especially social. He was actually about 50 feet away from us, but my new camera has a pretty nice zoom lens on it.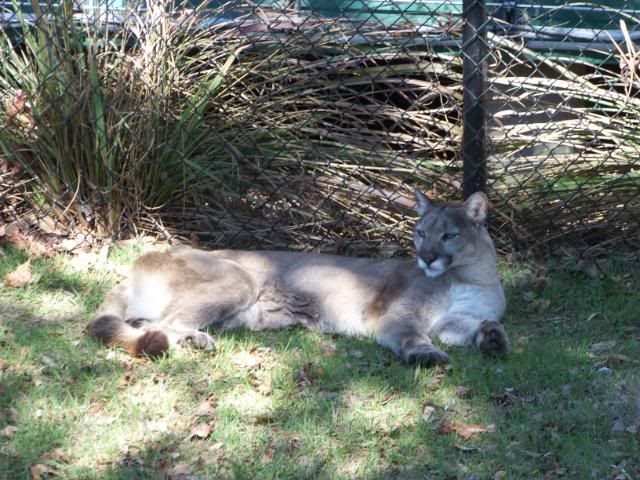 I remarked to Grandpa after looking at the birds below with the big bumps on their noses : they must be Kelleys!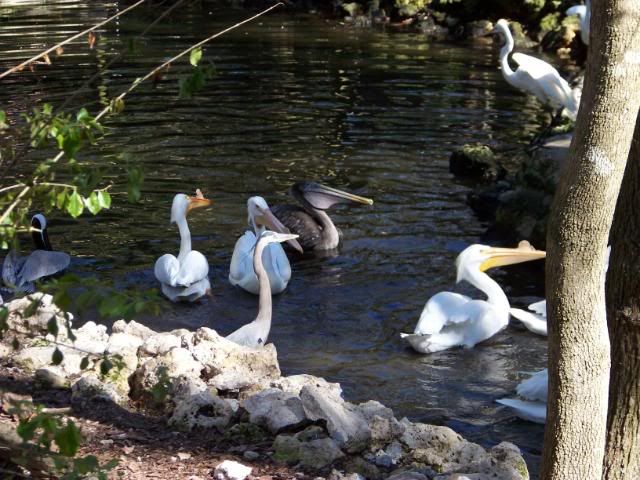 For my baby girl, I made sure to get pics of the colorful pink birdies.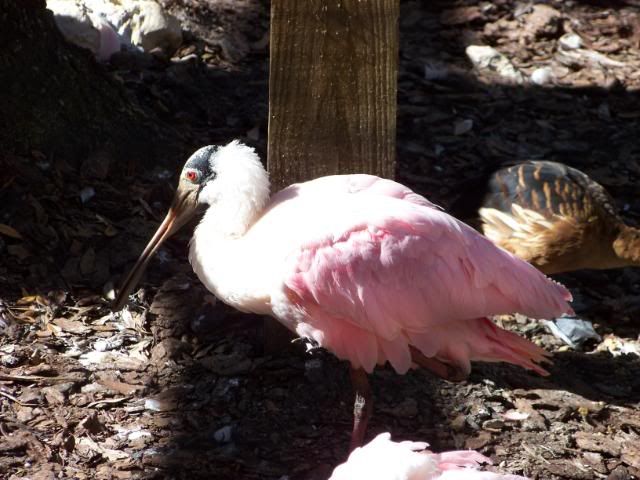 I took this picture for Aunt Susie. I thought I had got a better shot but it came out a bit blurry.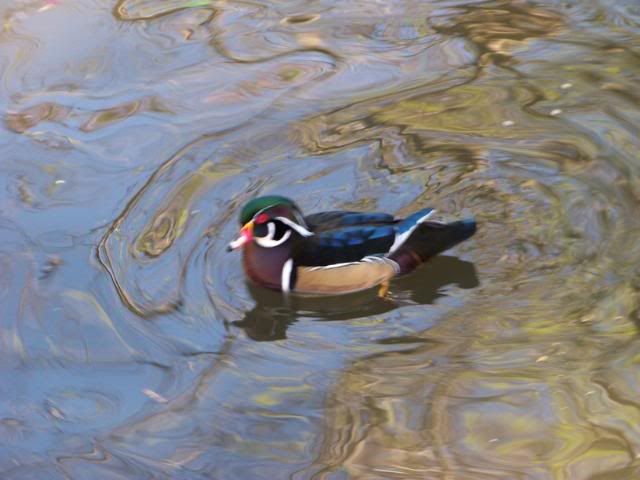 Swan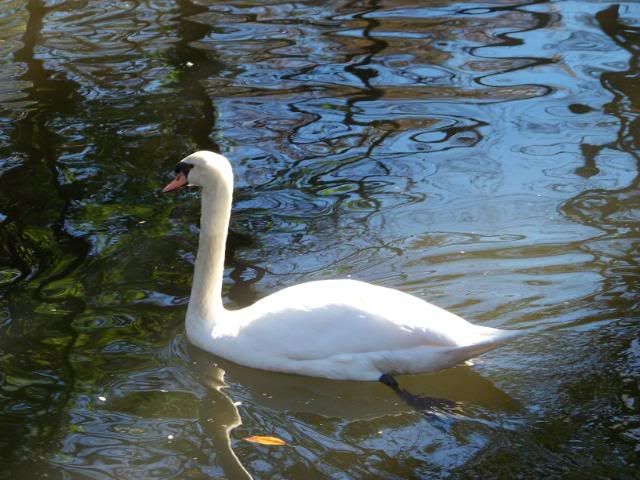 These two birds sat nice and still so I could get a nice zoom shot on them.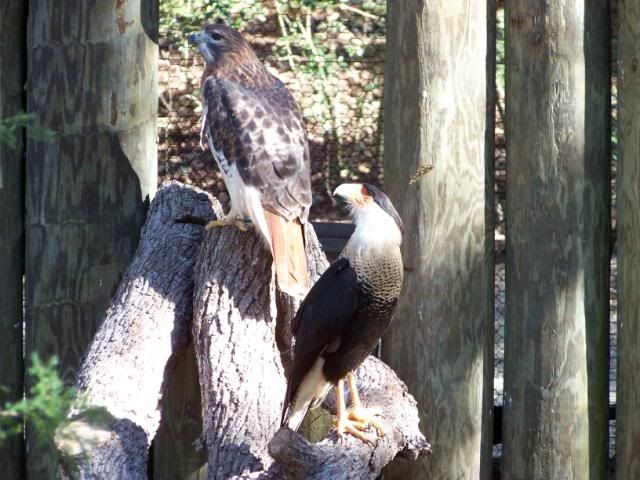 The park was also nursing two bald eagles. I always thought they were bigger but his wings weren't extended and I'm sure my opinion would change if they were. The two eagles were injured and being rehabilitated by the park.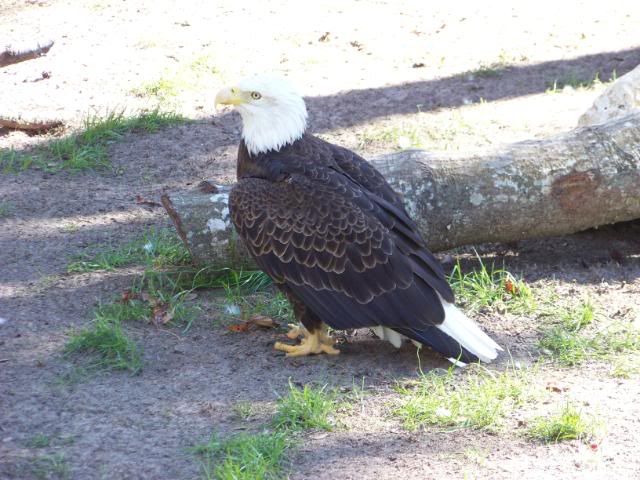 Crane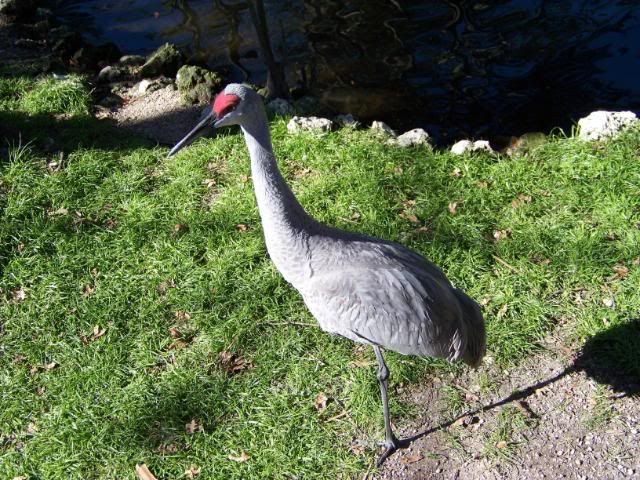 I snapped this photo of a movie star at the park :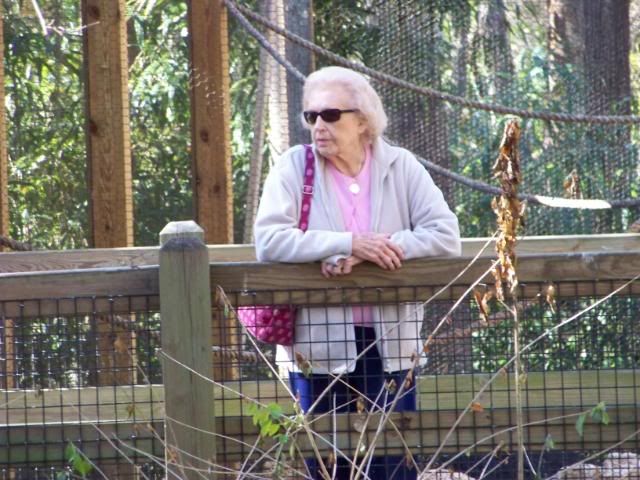 Pink Flamingoes!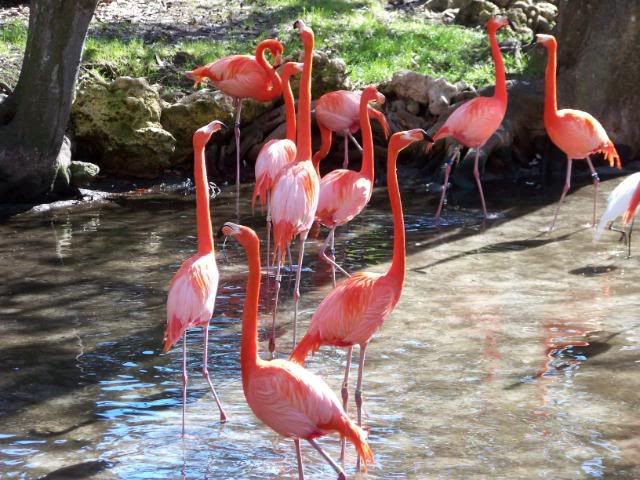 Owls. Again, pretty far away but with my camera I was able to get right up on him.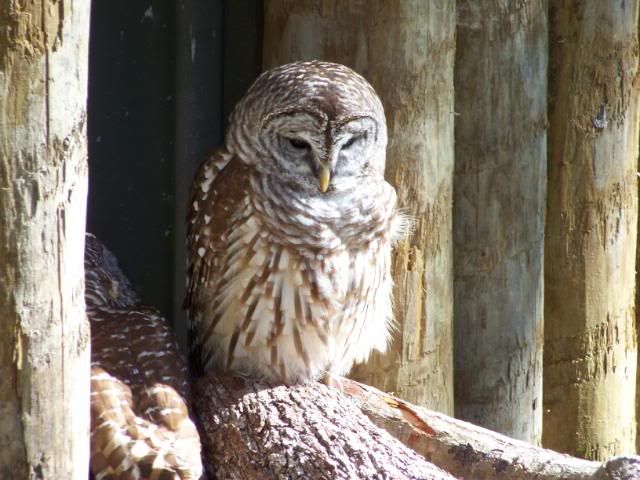 This owl started out looking right at me until I raised my camera and then he looked away. Snob.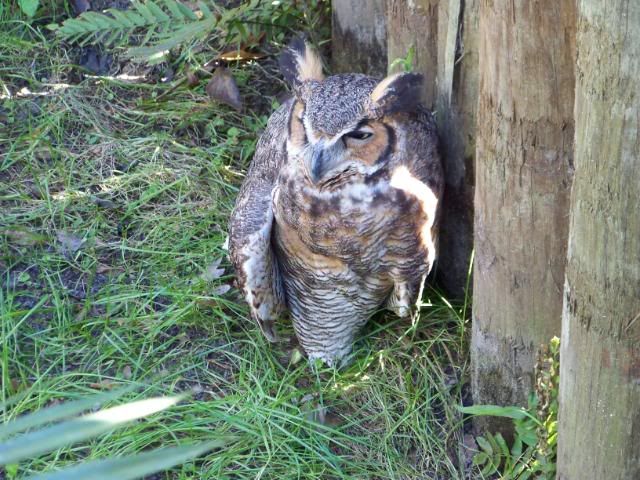 And at long last, the manatees! These are MASSIVE creatures.
The park's volunteer presenter told us the manatees are related to elephants which seemed strange at first but the more they explain it, the more it makes sense.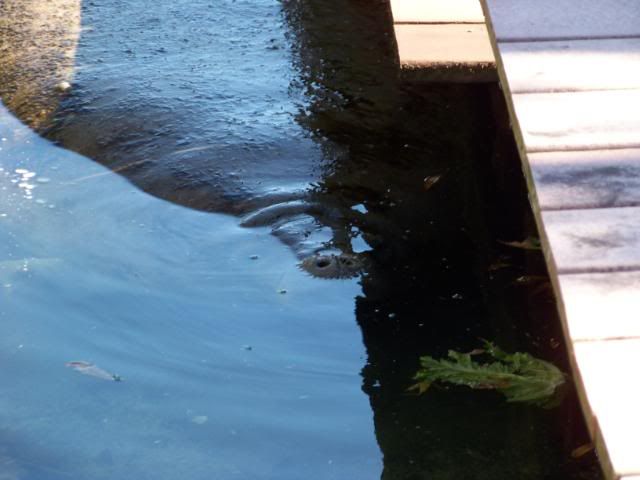 They weren't in the mood to do tricks but they were happy enough to eat sweet potatoes.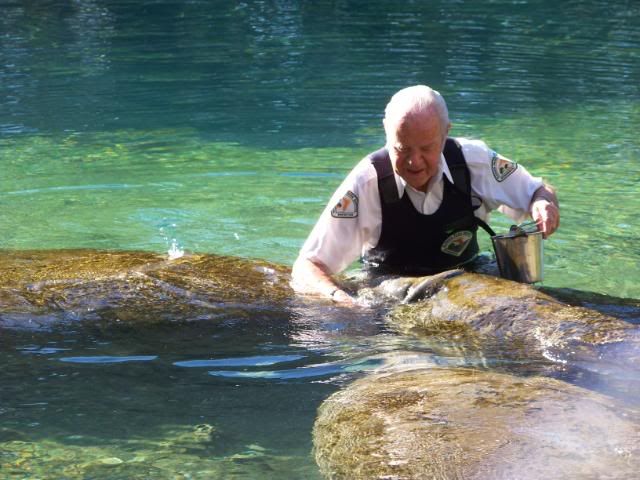 On Day two, we had dinner at the on-site restaurant at Timber Pines. I think other than the help I was the only person in the room under 40, so I drew a lot of strange looks, but they were mostly friendly. Grandpa struck gold again with his recommendation of pot roast, and although I couldn't finish it, it was an outstanding dinner nonetheless.
Finally on day 3, we took a walk around the subdivision again where I photographed this extremely well groomed palm tree in this guy's backyard. The lighting wasn't quite right, so I guess I'll have to visit again to get a better shot.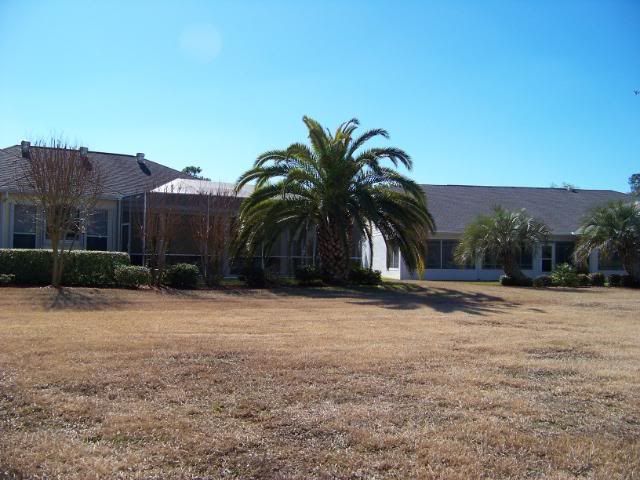 Finally, just before we had to drive to the airport to go home, we drove down to Pine Island Park. I thought it was kind of interesting the way they lined up the rocks almost like a runway.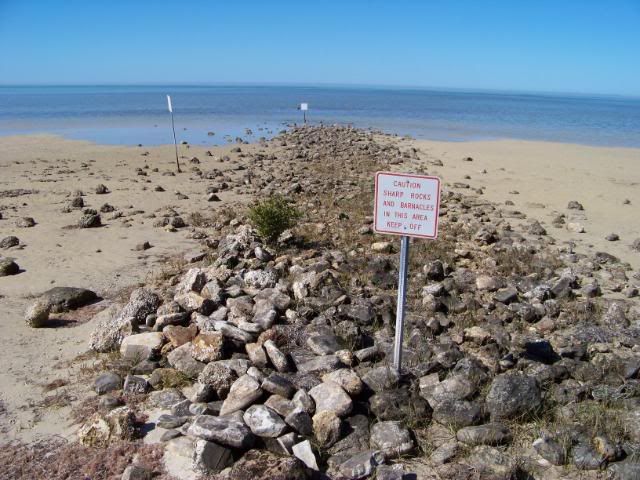 The tide was about as low as its been in recent memory as you can see the beach extending well past its normal boundary.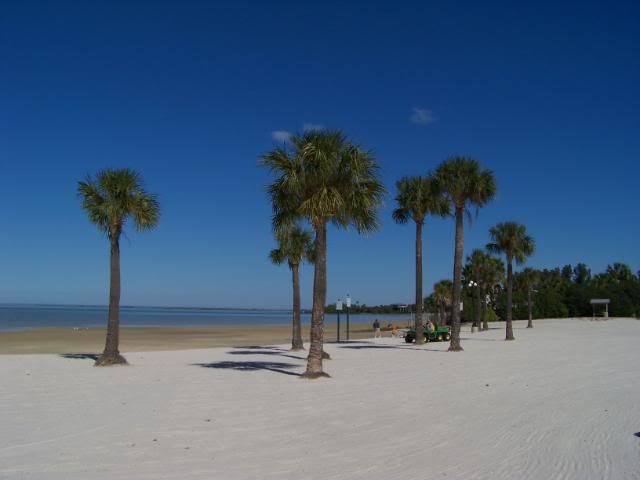 Facing the other direction.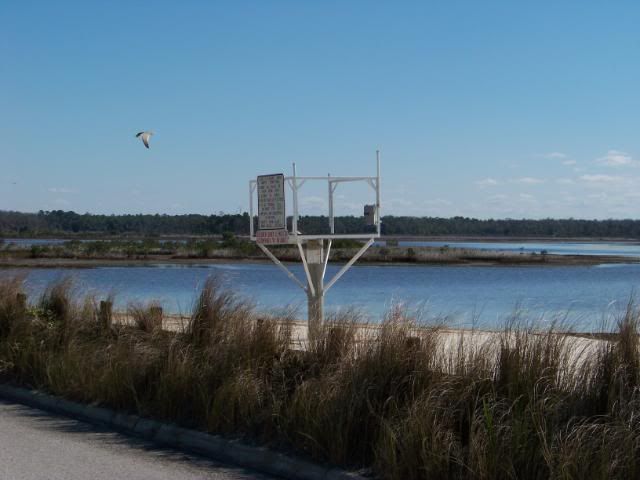 Then, at long last, it was time to return home. It was a very relaxing (and yet busy) couple of days. I'll have to go back when the weather allows for a bit more outdoor time. I'm amazed and humbled at the energy of my Grandparents to take me all over town and show me all the sites.
Thanks for an awesome trip!