Last night, I took our final pictures of the trees before Santa's visit. Since we're not allowed to see Santa, I didn't get pictures of the tree with all of Santa's presents underneath.
We took the kids upstairs, read them Luke Chapter 2 and 'Twas The Night Before Christmas and got them snuggled into bed. After a few false starts of pitter-pattering little feet upstairs, they finally went down for good around 9pm.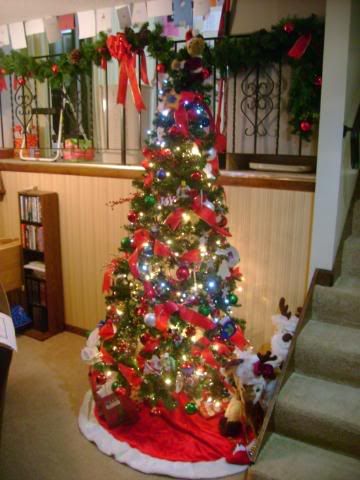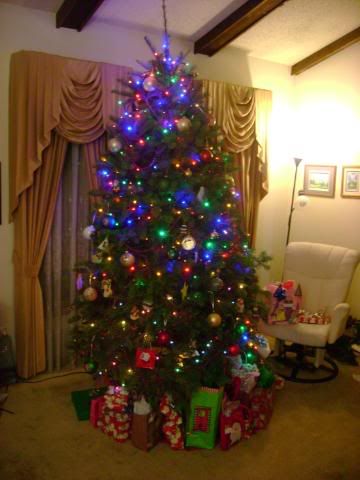 Around 3am in the morning, Julie and I woke to a strange sensation : COLD! The house was freezing. The pilot light on the furnace had blown out. We re-lit it and fell back asleep with the electric blanket on (Thank you Grandma Williams for that life saver!)
Around 5am, old faithful (aka Matthew) crawled into bed with Momma and promptly fell back asleep.
Around 6am, I woke up and started prodding Mama to run downstairs to see what Santa had brought for us! Kudos to our kids : we didn't put a gate at the top of the stairs this year and we didn't need to. They waited for us to take them downstairs.
And as Heath Ledger famously said in this summer's most popular movie : "And away... we... GO!"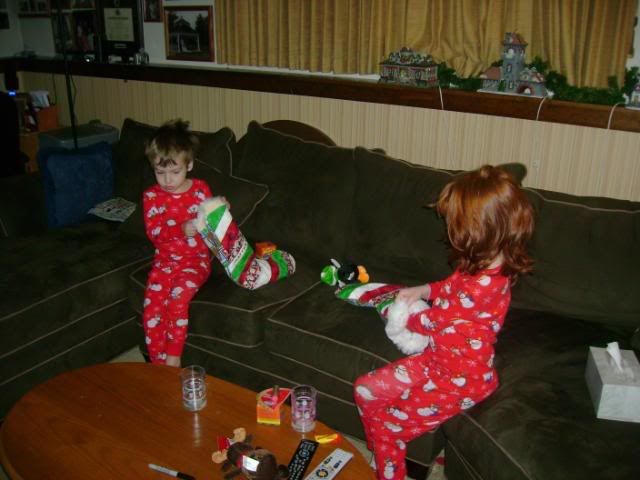 To quote one of my favorite holiday movies, "The Christmas Story" : "We plunged into the cornucopia quivering with desire and the ecstasy of unbridled avarice."
Barbie Mariposa!!!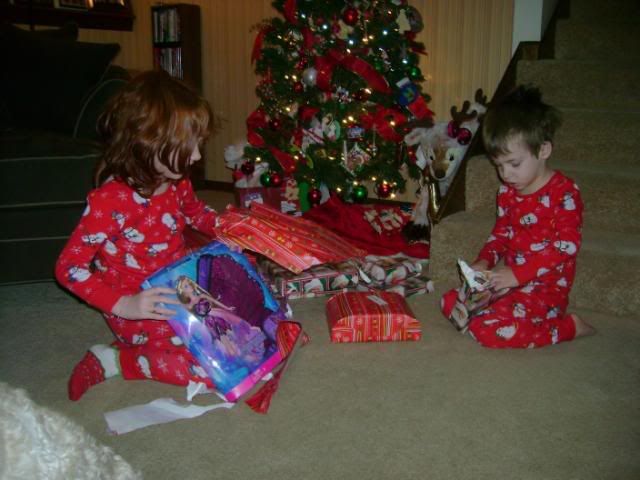 Star Wars Action Figures!!! I must say that nothing brings a tear to my eye like my son getting into Star Wars. Most of you probably know that I am much closer to Kelley than Matt, but his love of Star Wars this past year has brought us much closer together, a blessing I am very thankful for.
A Hanna Montana Bathrobe!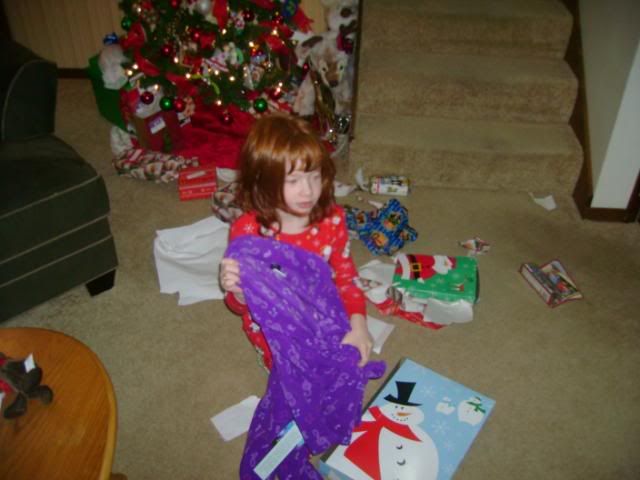 A Star Wars puzzle!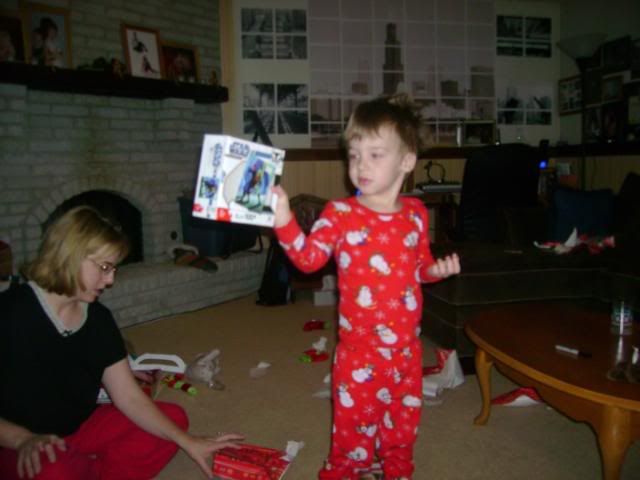 A Football from Dad! Matthew said something incredibly cute after opening the football which I have now forgotten, but it gave us all a good laugh at the time.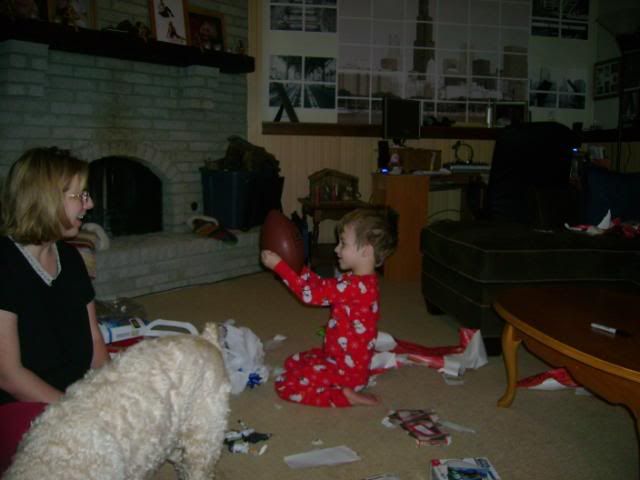 A Disney Princess Ornament from Dad!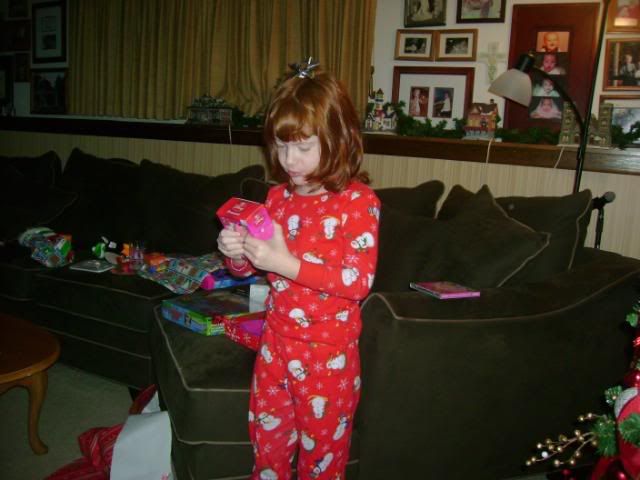 And the coup de gras of this year's Christmas : Lego Star Wars video game for Matt. Matt and I have been playing a different Star Wars game on and off since September and he has watched our neighbor play Lego Star Wars at his house. He finally let me in on the 23rd that was something he wanted and I was only too happy to oblige - especially given the extremely reasonable price - only $20 when most games retail for $60.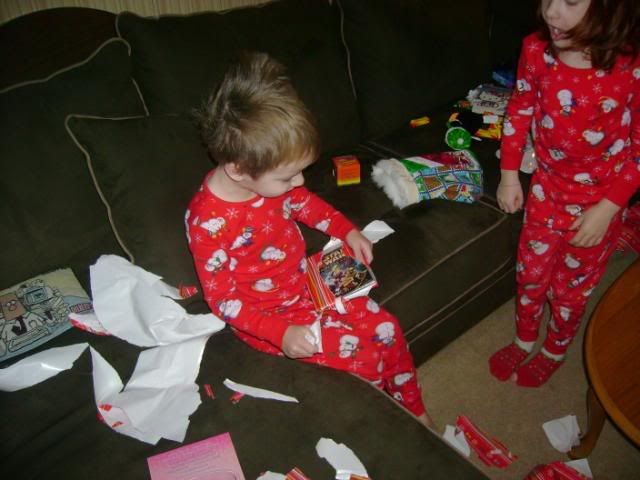 Check out Kelley's vertical leap!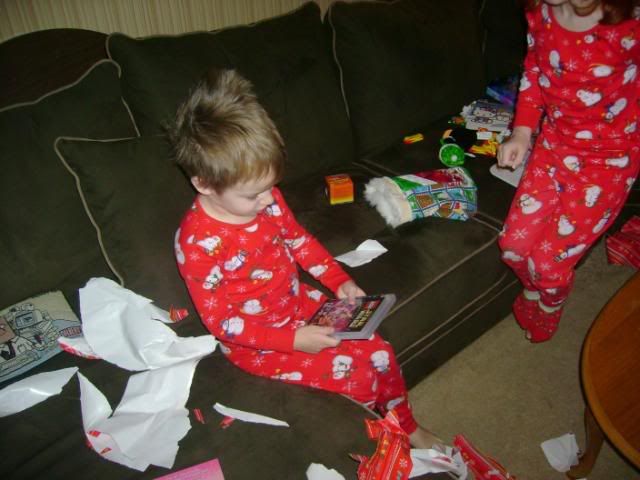 And for an encore?
An EPIC Christmas present for Mama from Daddy.
First things first, the card reads " To My Wonderful Wife - When God made you, He had me in mind... because there's no way on earth I'd have found a wonderful woman like you by myself. Merry Christmas"
In the opposite face it reads "Proverbs 18:22 - He who finds a wife finds what is good and receives favor from the Lord."
I also inserted the following verse : "Proverbs 31:10-12 A wife of noble character who can find? She is worth far more than rubies. Her husband has full confidence in her and lacks nothing of value. She brings him good, not harm, all the days of her life."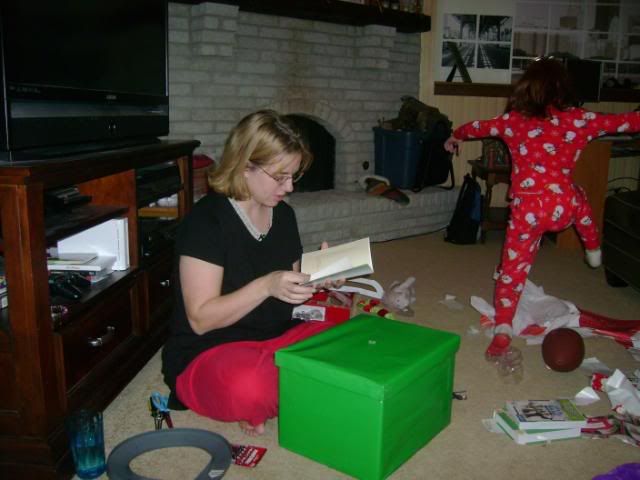 I spent literally 4 hours putting this all together, which if you know how much I hate wrapping Christmas gifts is INSANE for me. I always go with the gift bag and some tissues.
So after I finish this all on Tuesday, my wife comes home from my Mom's house where she had been visiting with her friend from Milwaukee and says "Did you wrap my present inside a box inside a box inside a box?"
I was crushed. Am I that transparent?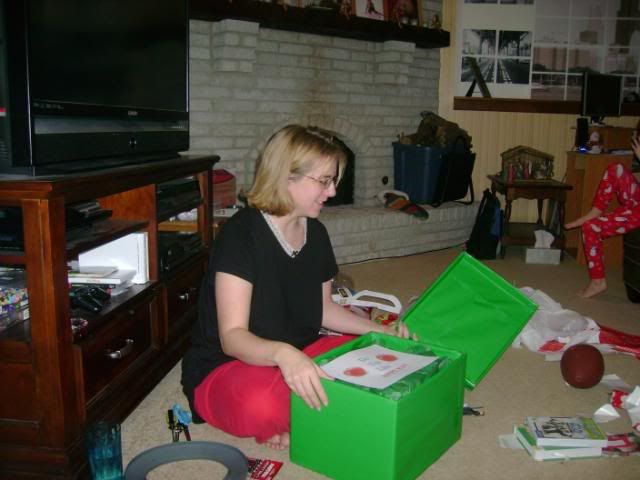 The paper reads "Do you like apples?" Those are honey crisp apples on the picture which she loves.
Then the next box!

Then some confetti, thrown at my daughter for good measure!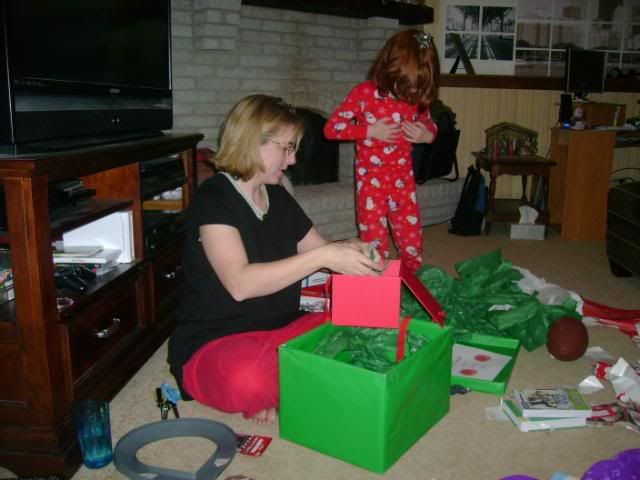 Then the final box!
There's a little card at the top of the box that reads "How do you like THEM apples?" - a reference to the movie "Good Will Hunting".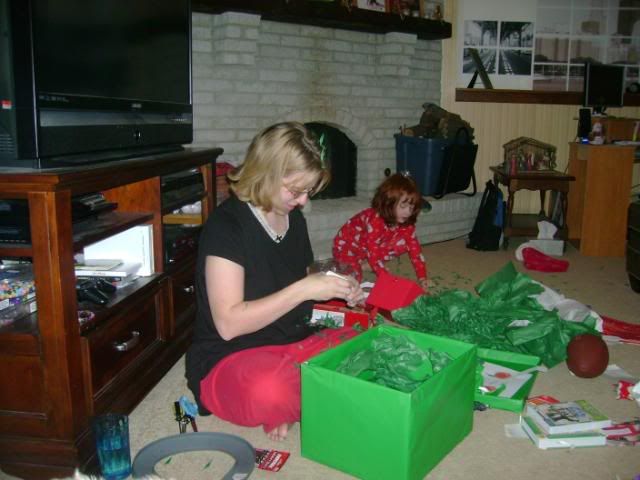 And while I didn't give her a Honey Crisp Apple for Christmas, I DID get her an Apple iPod Touch, which she has been longing for ever since I got mine Thanksgiving weekend. She was obviously pleased.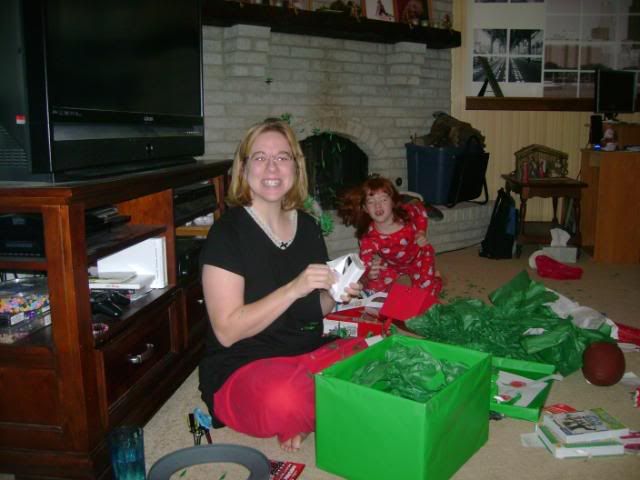 Just to put some cream on top of this Christmas celebration, Daddy got the Bears hat on his head (thank goodness they are still alive!) and my favorite soaps from Bath and Body Works!
Finally, Julie constructed this beautiful picture from a matte of the words "Kelleys Island". It's somewhat funny that she thought the photos of my cousin Andy were me, but it's the thought that counts, right? Anyways, I took those photos as a small child, so it still fits!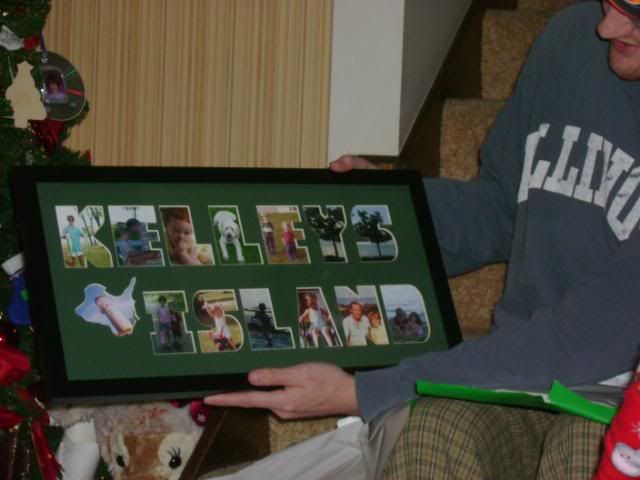 Last but not least, Santa left no member of the family ungifted, not even the dog!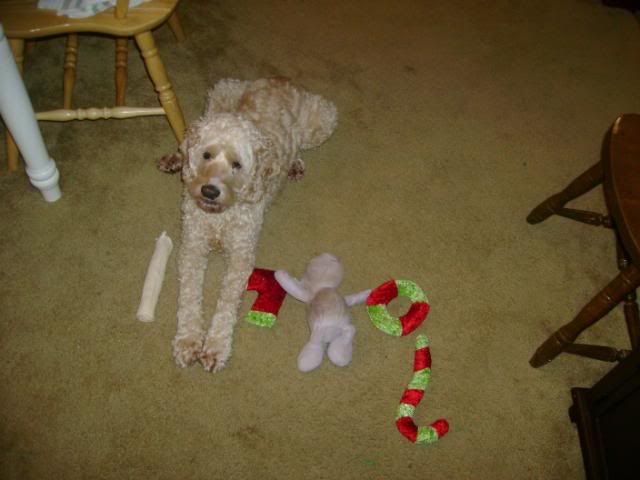 MERRY CHRISTMAS TO ALL AND TO ALL A GOOD NIGHT!!!! ...uhm, er day...whatever...