Watching your little baby girl grow up in front of you is one of the most rewarding and painful experiences a man can go through. Last night was another rite of passage - the Daddy Daughter Dinner Dance.
We both dressed in somewhat formal attire - I must say my date was looking quite striking last night :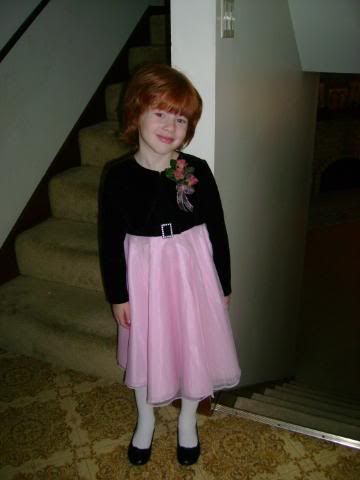 As is tradition, we took a couples picture before we left for the big date :
We had a small bit of misadventure on the way to the banquet hall - we actually went to the wrong hall. Schererville (our town) has two St. George churches, both very large and both with entertainment facilities. We went to the one closer to our house where they told us that we had chosen the wrong place. I saw another Dad out in the parking lot and I headed him off to save him some time. Little did I know this guy makes his own time out on the roads as I found out later.
Anyways, we went back home to ask Momma where we were supposed to be and of course she had taken Matt to Target to go shopping. I had a vague idea of where the other St. George church was so we headed in that general direction. Unfortunately for me, my vague idea of where it was was slightly off which added about 10 minutes of driving in the wrong direction before I figured it out. On the way, I saw this car zipping in and out of traffic, not actually making any headway but at least he let everyone else know he was in a hurry. At the next stoplight, I glanced at the driver and it was none other than the guy that I had stopped at the wrong hall. It gets better.
We finally got to the hall where Kelley and I were greeted by the very friendly hostesses of the event. As Kelley and I walked in, there was a line for the buffet style dinner that at this point had wrapped halfway around the room. There were about 20 8 person tables and the room was pretty much filled to capacity. I decided not to make Kelley stand in line for 20 minutes and luckily for us, the waiter had brought out bread, so Kelley snacked on bread until the line died down. After we had been seated for about 5 minutes, who walks in? Mr Speedy Gonzales - I waived at him and just laughed.
There was also a line for formal pictures but it was a cash and check only operation so we passed on it - maybe next time. They also couldn't afford to keep the picture setup for long because they had the camera and backdrop right on top of the dancefloor. So they gave a final call for pictures and then closed it up.
Of course, once the dinner line actually did diminish, Kelley had pretty much filled up her appetite with bread, but they had a dessert table with pineapple, strawberries and bananas. Kelley picked up half a plate of pineapple, half a plate of strawberries and a cookie with sprinkles on top. They also had a chocolate fountain which Kelley really wasn't interested in, but the skewers for the chocolate fountain she liked very much :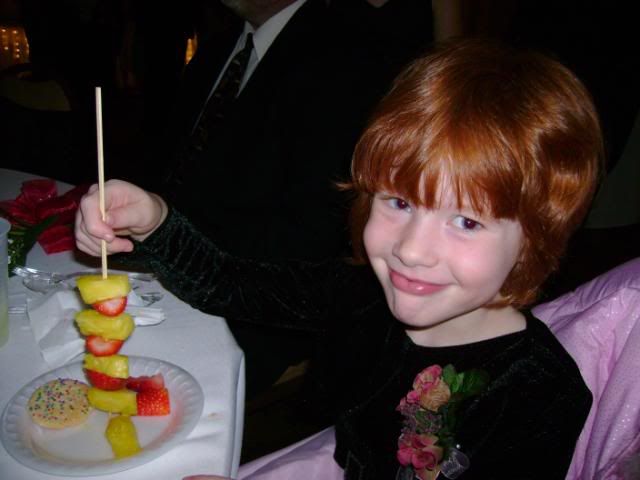 I sat her back down to eat her fruit and then ran back to get my own dinner plate. I had a nice plate of pasta and some salad - standard buffet fare but good nonetheless, even after 20 minutes of waiting in line or so.
As dinner wound down, they turned down the lights and turned on the dancefloor. A pretty impressive setup for a Girl Scout Troop, I must say. It looked to me like one of the dads was a DJ and he brought his full setup complete with colored strobe lights. Kelley wasn't interested at all in dancing at first - I think she was taken aback a bit by all of the girls she didn't know jumping around on the dancefloor. I had to question the DJ's song selection a little bit when he threw on Aqua's "Barbie Girl" for the second song but it was pretty standard wedding dance fare from then on, with all of the usual hip-hop stuff that I really don't care for.
Fortunately, they sprinkled in about every half an hour a slow dance song for the dads and we all gathered on the dancefloor with our petite dates. After one of these songs, Kelley decided she would keep dancing with her dad out on the dancefloor. And so it went for about an hour - she wasn't out mixing it up with the other girls very much, but at least she was out on the dancefloor with her dad having fun. The flipside of that was that I was the only adult on the dancefloor as all the other dads sat at the table and watched. I hardly noticed - I had my baby girl spinning in front of me making her skirt flare out as she did. She liked the effect so much that she did it about every 30 seconds for the rest of the night.
Then they started a train of girls and at last Kelley got the bug to go out on her own :
Then the DJ started a limbo line which he discouraged the adults from participating in - "we don't need any torn ACL's or bulging discs after tonight". He was personable - I'll give him that :)
As they came back around in line for the next limbo turn, Kelley got her groove on in line with the other girls :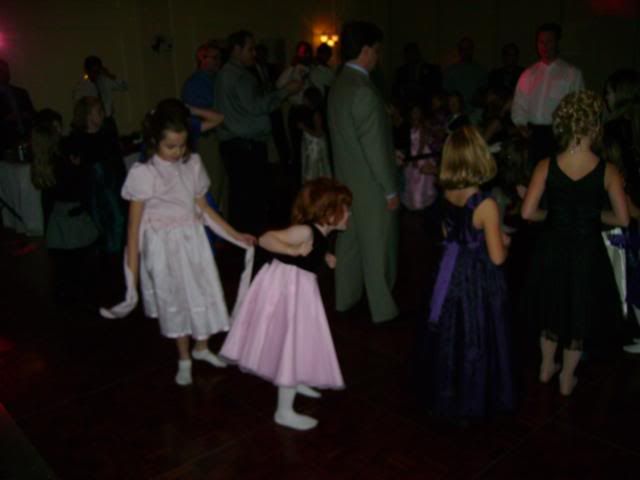 After the limbo was over with (none of the kids were really doing it right, so there wasn't really a "winner") we had a final stretch of songs for the evening. And for the finale, you know there's only one song that would really work : "Butterfly Kisses" by Bob Carlisle. I have always had a hard time of listening to that song because it's so good but having my 5 year old girl standing in front of me looking up at me while the lyrics rolled out was really really hard.
"There's two things I know for sure:
She was sent here from heaven and she's
daddy's little girl.
...
In all that I've done wrong I know I must
have done something right to deserve a hug
every morning and butterfly kisses at night.
...
But I remember
Butterfly kisses after bedtime prayer; sticking
little white flowers all up in her hair.
...
She'll change her name today.
She'll make a promise and I'll give her away.
Standing in the bride-room just staring at her.
She asked me what I'm thinking and I said "I'm not
sure-I just feel like I'm losing my baby girl."
She leaned over...gave me butterfly kisses with her mama there,
Sticking little white flowers all up in her hair
"Walk me down the aisle, Daddy-it's just about time."
"Does my wedding gown look pretty, Daddy? Daddy, don't cry!"
Oh, with all that I've done wrong I must have
done something right.
To deserve your love every morning and butterfly
kisses-I couldn't ask God for more, man this is what love is.
I know I gotta let her go, but I'll always remember
every hug in the morning and butterfly kisses. "
Right about the end of that song I was praying that no one could see me because I just welled up with emotion. I've never made any secret of my affection for my baby girl and at that moment it really just poured out of me.
The song ended and we headed home. All through the drive and even in getting ready for bed that night I kept having to remind myself that she's still my baby girl, even as she continues to be a little less so every day.