Ok, so sue me for being a week late with this, but a videogame that I have been waiting 3 years to play came out at the exact same time, so I'm a little slow. Anyways. :)
My son, Mr. Matthew, turned 3 years old on September 20th and to commemorate this historic event, we invited every person from the surrounding five counties to our house. Ok, not really, but we had a lot of people over.
The little man himself was in fine form, posing for photos which has, at least historically, been somewhat unlike him. (sigh) A good day on a birthday party is about all a parent can ask for.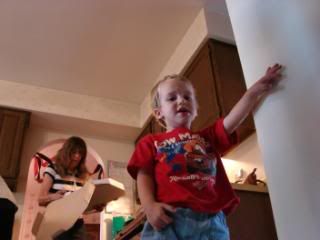 After inhaling roughly 30 lbs of pizza, we headed downstairs where we thanked Matthew for the opportunity to stop watching the aboslutely woeful Bears as they were getting strung up by the Lions in Detroit.
As you can see, Matthew's entourage is a large group.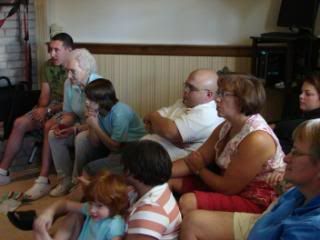 Matthew wasted no time in getting down to business in opening his presents, even if it caused his mother some mild consternation :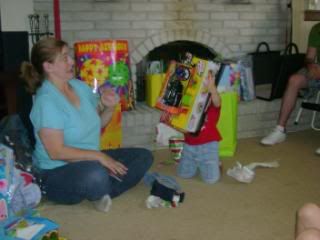 One particularly meddlesome present required a bit of teamwork as momma grabbed the bag and Matthew grabbed the present and ... POP! out it came, much to the delight of the guest of honor :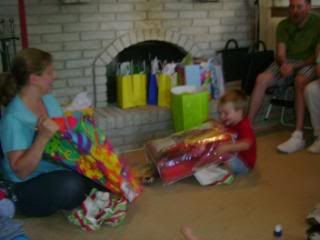 A closer look reveals a Cars-themed bedset. Matthew was noticeably pleased.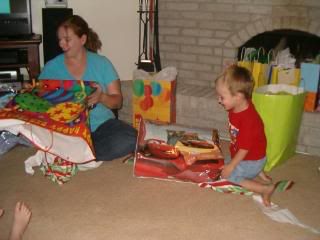 Other than Cars, Matthew's other favorite licensed brand is any and all things trains. Especially Thomas the Tank Engine trains.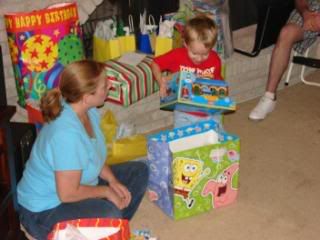 More more more Presents!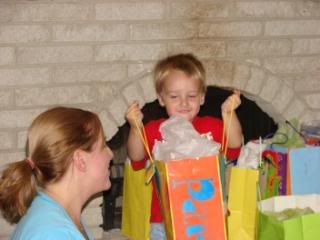 Even momma got excited by the train engineer's outfit! And Halloween is right around the corner!
Matthew has apparently been enjoying watching teenagers and grownups play basketball at the local YMCA. So much so, in fact, that momma has to drag him away to get him to leave. So we enrolled him in Kiddies Basketball at the Y and daddy had inspiration for Matthew's Birthday Gift :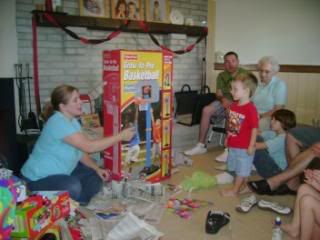 At long last, all the presents were opened! Matthew gave a rather emphatic "Ta DA!" to emphasize this point :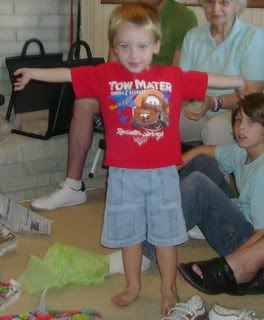 Momma joined in as well :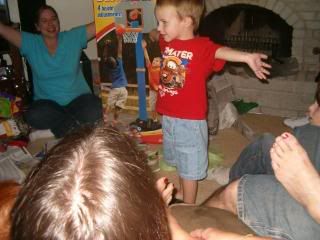 At last, we got down to the important things in life : BIRTHDAY CAKE!! Momma did an EXCEPTIONAL job with this one. With the exception of the shape which is made in a cake pan, all of this is done by hand. And my wife came down with a sore wrist the night before, so three cheers for warrior mommy in finishing the job, and what a great job it was :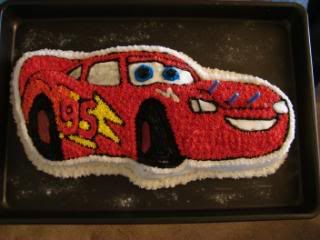 Make a Wish, Matthew!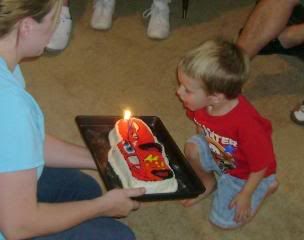 Alone, at last! A boy and his cake - a true love story :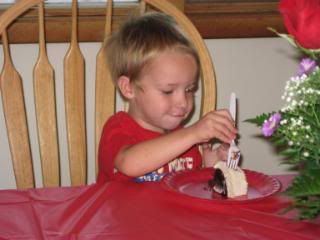 Later, we tried out the new basketball hoop where Matthew discovered he has some work to do on his vertical leap :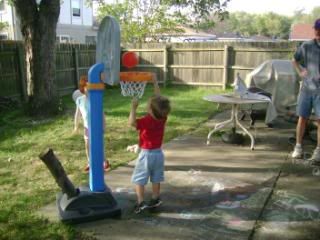 At long last, everyone went home and toys were unboxed. But then, there's only so much in one day a little boy can do :
Thanks to all who came, and we'll look forward to seeing you in April for the big 6 for Miss Kelley!