During our Indy trip we checked into our B&B on Friday night and watched My Big Fat Greek Wedding (twice). On Saturday, we went to the Zoo, the White River Gardens, the mall, then back to the B&B and then back to the museum for some IMAX 3-D action.
Needless to say we were a bit pooped at this point. Thankfully, we ran into the patron saint of resuscitation :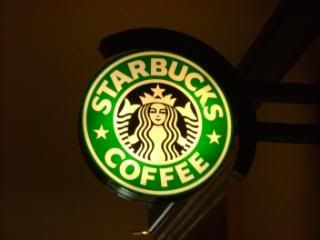 One hot Mocha and one Mocha Frappucino later, we were perky again.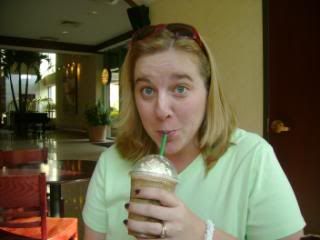 "MOCHA FRAPPUCINO!"
about 22.5 seconds later :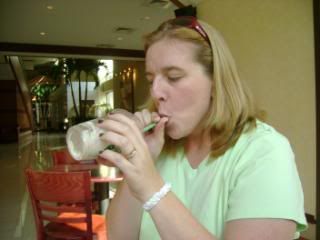 We then proceeded to walk down to the State Museum where the IMAX theater was.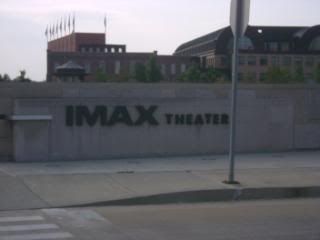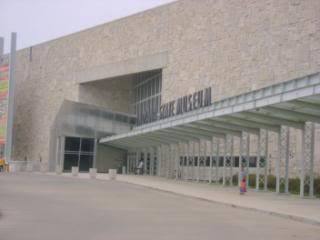 Outside the State Museum, they have all of the states (up through Indiana) as plaques on the sidewalk (in order) on the way into the Museum.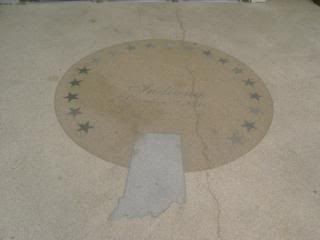 If you ever feel the need to play real world checkers :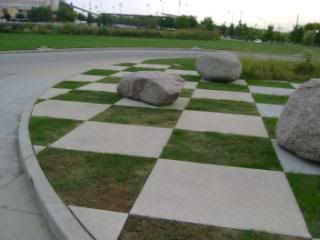 We had two choices for our IMAX movie : Dinosaurs and Sharks. As previously described, I have no desire to be anywhere near Sharks. Living, Dead, On Screen or Off, Imaginary or Real, just get those little demons the hell away from me. :) Julie, however, does not have this issue :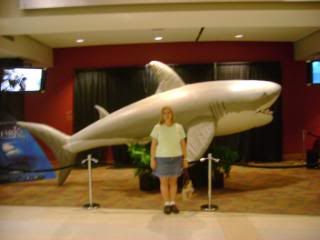 IMAX is one of those good news, bad news phenomenons. It's a huge screen but it's in a 4:3 format instead of a widescreen format, so movies that are MADE for IMAX look great, but when you try to put an anamorphic widescreen print on IMAX, you inevitably lose much of the picture.
The good news is that the Dinosaur picture we went to see was not only made for IMAX, it was in 3-D! In order to see the 3-D, you get to wear these super cool glasses :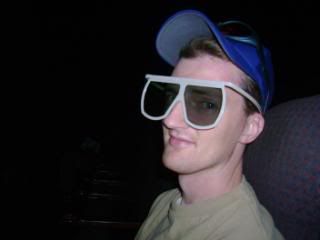 I'm thinking about getting a pair for around the house.
The movie was amazing, far better than my expectations. The only time the 3-D effect breaks down is when something large comes in or leaves from screen left or screen right, but otherwise as long as the image you are looking at is fully onscreen, the effect is AMAZING. They put an asteroid almost in our lap and then whisked it away. A dinosaur hunting an oversized mosquito snaps at it inches from your nose. The tail of a triceratops goes whipping in front of your face. It felt like you could reach out and touch the dinosaur footprints -they were so real and so close.
It was all very, very impressive.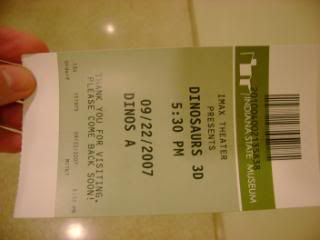 Next on the Anniversary Blog : Our walk to dinner (Julie is still mad at me) and dinner with belly dancers (no kidding!)